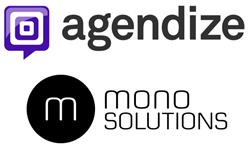 ...we have chosen to partner with Agendize, so that we can provide seamless, professional appointment booking on websites built with our platform.
MONTREAL & COPENHAGEN (PRWEB) October 28, 2014
Both businesses and consumers are going mobile. According to ScreenWerk and Our mobile planet by Google, over 23% of US SMBs have a mobile compatible website and 20% of consumers perform daily mobile searches for local services.
mono solutions provides a leading platform for the creation of professional and mobile-optimized websites for SMBs. Following the growing demand for appointment booking applications, the mono solutions platform now integrates Agendize Online Scheduling.
Louise Lachmann, mono solutions CEO, commented "We want to maintain our focus on delivering the best technology for building SMB websites while finding partners that offer additional, best-in-class digital services like website fulfillment, SEM, SEO, call tracking and more. This is why we have chosen to partner with Agendize, so that we can provide seamless, professional appointment booking on websites built with our platform."
Online Scheduling
Online Scheduling is a simple and powerful productivity tool that does all the heavy lifting to book and manage appointments. It combines all the functionalities an SMB needs to effectively manage bookings in a user-friendly interface, freeing up their time to do what ultimately adds value to their business. It also empowers customers to take and modify appointments themselves anywhere online.
"For a lot of SMBs, appointment booking is an absolute business essential and their customers need to be able to book an appointment from their mobile devices just as easily as they can on their PC. Thanks to our recent integration with Agendize, this is now possible." added Louise Lachmman.
The Online Scheduling software is a mobile-optimized solution that is quick and easy to deploy. The integration with mono solutions enables SMBs to deploy an Online Scheduling button on their site in just a few clicks.
Partnership
Agendize is a white- and private-label solution with mature APIs that integrates seamlessly with world-leading online directories and website building platforms. Agendize COO Alf Poor commented "In working with mono solutions, Agendize has continued its collaboration with the world's finest solution providers for small business. The combination of online presence with scheduling capabilities helps consumers find and book local service providers online - for consumer convenience and business productivity. We are very pleased to count mono solutions amongst our partners, integrating these complimentary solutions for the benefit of our customers."
For more information about Agendize Appointment Scheduling software visit: http://www.agendize.com/platform/online-appointment-scheduling-software
To inquire about Agendize partner opportunities, visit: http://www.agendize.com/partners/
About mono solutions
mono solutions, headquartered in Copenhagen, Denmark, provides a SaaS-based platform for the design, delivery and management of professional, responsive websites and e-commerce. We help our resellers to efficiently and cost-effectively deliver high quality online presence solutions to SMBs through our platform, along with our partner network of distinguished digital service providers of SEM, SEO, fulfillment, domains and emails, online booking, call tracking and other complementary services.
Like our resellers, we care deeply about small and medium businesses, and believe that they can and should enjoy the same level of design and performance from their web presence solutions as larger companies. We are proud of our long lasting partnerships with directories, Telcos, hosting and local media companies in the U.S. and Europe. For more information, visit http://www.monosolutions.com
About Agendize
Agendize, headquartered in Montréal, Canada, is an all-in-one SaaS-based platform that includes a full range of customer engagement and conversion applications. By generating meaningful interactions, the engagement applications help SMBs to large-sized enterprise to generate leads and turn online visitors into customers. Agendize platform includes: Online Scheduling, Click to Call, Live Chat, Form Builder, Save & Share, and Call Tracking - with integrated CRM and Analytics functionalities. Over 100,000 businesses worldwide rely on Agendize apps to generate more leads and improve customer service. Agendize apps are distributed as a white and private label solution by some of the largest digital players.