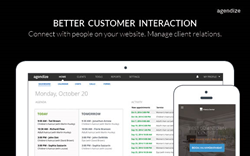 Agendize Scheduling app for Android does everything an SMB can expect from an Online Scheduling solution
San Francisco, California (PRWEB) December 03, 2014
Today, 84% of smartphones run on Android, making it the world's first mobile operating system, according to latest IDC data. With the release of the Android application for Online Scheduling, Agendize brings SMBs the productivity and mobility they need to grow their business.
Online Scheduling helps businesses grow
Online Scheduling is a simple and flexible application that takes care of operations, so SMBs can focus on their customers. By letting the application take care of appointments, business can save up to 75% of the time spent managing bookings.
Also, Online Scheduling reduces no-shows by up to 80% thanks to automatic customer notifications and reminders. Additionally, Online Scheduling empowers clients to book their appointment online themselves, which makes a business available 24/7 to the 40% of consumers who book their appointment outside working hours.
Android App
Agendize packaged all the great features of its Online Scheduling solution into an Android app. In a few touches, users can make and update appointments, accept or decline appointments, follow their appointment flow, as well as access appointments details and client profiles.
Davy Bour, Agendize Sales & Marketing Director, commented "This app does everything an SMB can expect from an Online Scheduling solution. It lets them access their essential business operations and customer profiles anytime, anywhere - bringing SMBs even more productivity and mobility. Service professionals can now carry their business in their pocket or around their wrist."