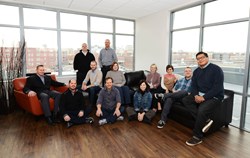 Consumers expect so much more now – they want an experience, a feeling, and a reason to fall in love with brands.
(PRWEB) November 06, 2013
There's a new player in the dynamic Nebraska creative scene: Agent, a brand idea company. This new shop is founded by three highly awarded creatives from Bailey Lauerman (Ad Age's Small Agency of the Year) and the owner of Thought District.
"Consumers expect so much more now – they want an experience, a feeling, and a reason to fall in love with brands," shared Raleigh Drennon, Agent executive creative director. "Agent will create and deliver engaging brand experiences that stem from a single, holistic idea."
Drennon's executive counterpart and Agent CEO, Monte Olson, credits consumers for the conception of Agent, "We exist because consumers view advertising differently today; and the brands we want to work for understand that and have the bravado needed to change the game."
If history is any indication of future achievement, Drennon and his founding partners are poised for success. Collectively, the founders share multiple national awards for creativity and campaign effectiveness including Effies, national ADDY's, multiple Communication Arts and One Show appearances. Their portfolios include experience leading campaigns for brand heavyweights including Disney, AMC Theatres, Miller Brewing, Red Lobster, Allstate, Payless Shoes and more.
Ideas at the Core, Results as the End Game
Agent's leaders said they will put everything through two filters: is this a gripping idea that works holistically, connecting across experience points; and, what results must this idea generate to propel our clients' business.
"We have to think past traditional modes of advertising," Drennon went onto say. "Monte and I will have to justify every concept to our direct CMO partners, as well as their CFO and CEO. Our ideas have to deliver real business results not just marketing speak."
Agent uses that credo to hire and staff its new team, which is now at a dozen professionals.
What's Next
The company's first client campaigns will begin launching as early as December.
In March, Agent's team will move into a new space in Lincoln's Haymarket. Fittingly, the area of Lincoln they are headquartering in is one of the many branded experiences created and led by Agent's founding team.