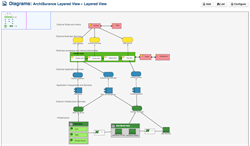 The tool is built with the end-user in mind; it's easier to use, faster to deploy and collaborate with a wide audience of stakeholders, and provides powerful analytics out-of-the-box
New York, NY (PRWEB UK) 24 March 2015
ArchiMate® is one of the widely-adopted enterprise architecture languages for describing the various aspects of an organization; business processes, organizational structures, information flows, IT systems and technical infrastructure. Its purpose is to help enterprise architects and their stakeholders design, analyze, and communicate the impact of change on the enterprise.
Corso's Agile Enterprise Architecture tool has been ArchiMate® 2 Certified by The Open Group, ensuring architecture assets created conform to the ArchiMate® standard out-of-the-box. Corso is the first enterprise architecture software provider to have two tools ArchiMate® 2 Certified.
"We're seeing an increasing number of organizations adopt ArchiMate for their Enterprise Architecture initiatives," said Martin Owen CEO at Corso. "They can be confident building, analyzing and communicating their EA assets using Corso and the latest ArchiMate standards."
"The tool is built with the end-user in mind; it's easier to use, faster to deploy and collaborate with a wide audience of stakeholders, and provides powerful analytics out-of-the-box," said Jon Lederer, VP Worldwide Sales & Marketing at Corso.
Corso Agile Enterprise Architecture is a SaaS-based tool designed to help organizations achieve higher levels of business and IT agility that traditional enterprise architecture tools have not been able to support. Architecture teams of any size can respond to change and effectively collaborate with stakeholders and senior decision makers to achieve business objectives. Agile Enterprise Architecture is the second module to be released as part of Corso's ideas-to-delivery Strategic Planning Platform.
A 21 day trial is available of Corso's software. For more information, visit the Corso website.
About Corso
Corso is a global products and services company specializing in Enterprise Architecture, Innovation Management, Strategic Planning and Business Transformation. We combine unique products, professional know-how and industry-proven technologies to solve real-world problems. Corso is headquartered in Birmingham, UK, with offices in New York, Toronto and Melbourne.
About The Open Group
The Open Group is an international vendor- and technology-neutral consortium upon which organizations rely to lead the development of IT standards and certifications, and to provide them with access to key industry peers, suppliers and best practices. The Open Group provides guidance and an open environment in order to ensure interoperability and vendor neutrality. Further information on The Open Group can be found at http://opengroup.org