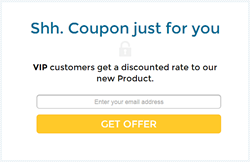 Many of our eCommerce users deploy Shopify to power their online stores, so this plugin has been a top priority. We are particularly excited to be making our powerful web grabbers and pop-ups available to the Shopify community.
Sunnyvale, CA (PRWEB) May 31, 2014
Agile CRM, a subscription-based SaaS product that went into open beta in March 2014, announces the beta release of its powerful new Shopify App. Agile's streamlined plugin offers many of the features of leading Shopify plugins for user engagement and retention, all within one intuitive app. The new plugin lets online businesses sell faster, engage users automatically, track metrics and increase conversions.
The Agile CRM plugin for Shopify focuses on online engagement, solving common problems faced by eCommerce businesses that want to increase conversions and retention in an age of distracted consumers. The plugin lets Shopify store owners combat exit intent and increase user engagement with perfectly timed pop-ups and discount coupons, sign-up forms, and sophisticated, customizable web grabbers based on essential factors such as purchase history, geographical location, or time spent browsing a particular page or product.
Agile's unique combination of Marketing Automation and traditional CRM features makes it easy for online businesses to engage shoppers offline or "after hours" as well. Users with both an Agile CRM and a Shopify account have access to Agile's full range of tools for offline engagement, including cart abandonment emails, cohort analysis and conversion metrics, sophisticated email newsletter campaigns and tracking, auto responders, social media integration, and automated lead scoring.
"Agile is a leader in the CRM space for eCommerce companies," says Agile CRM founder Manohar Chapalamadugu. "Many of our eCommerce users deploy Shopify to power their online stores, so this plugin has been a top priority. We are particularly excited to be making our powerful web grabbers and pop-ups available to the Shopify community."
Agile CRM Shopify App: https://www.agilecrm.com/shopify-integration