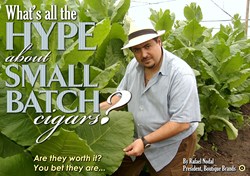 So, as it is with most things in life, all small batch cigars are not created equal.
(PRWEB) July 30, 2013
The all-new Cigar Advisor is an online cigar magazine that brings a fresh, irreverent, and down-to-earth perspective on all things cigars to thousands of smokers. In addition to educational cigar content and behind-the-scenes cigar industry articles from some of the business's top names, Cigar Advisor delivers an array of content about a variety of topics of interest to people who enjoy the cigar lifestyle. The magazine also features cigar reviews and ratings submitted by real smokers. Cigar Advisor has just published a new article by Boutique Blends President Rafael Nodal, exploring the current hype surrounding small batch cigars.
Trend-watchers point to small batch cigars as having become one of the most popular interests among cigar smokers, for their use of rare and vintage tobaccos. As a result, it seems many manufacturers have jumped on the small batch bandwagon. "In this time of 'one size fits all,' it's good to know that there are cigars that are not mass-produced by big corporations, where the quantity is often more important than the quality," says Boutique Blends President, Rafael Nodal, explaining why he believes these unique cigars are well worth having in a humidor.
In "What's All the Hype About Small Batch Cigars?" Nodal defines cigars in the category of "small batch" because the cigars are made in very limited numbers. "Another way 'small batch' cigars are defined," says Rafael, "is by the rarity and uniqueness of the tobaccos. Once those tobaccos run out, that batch is complete and cannot be made again. So, as it is with most things in life, all small batch cigars are not created equal."
But if you one were to ask his opinion on the hype about small batch, and "are they worth the prices these batches command?" His answer is, "you bet it is."
Rafael contrasts small batch cigar production to fast food restaurants. "You can buy a burger, sandwich or salad on every corner. It's convenient, cheap and fast. But if you want a good meal, do you tell your wife, 'Honey, I want a great burger so let's go to McDonalds tonight.' Or perhaps, you drive a little farther and pay a little more for a burger that is not already waiting for you and has to be put in the microwave before serving."
The burger example illustrates Rafael's point about small batch cigars: "You get what you pay for. Sometimes you want an average cigar, with an average price, for an average smoke. But sometimes you want more, you want a great cigar, for a great smoke and you may be willing to pay a little bit more; though not too much more, since I believe that a good small batch cigar does not have to break the bank."
About Cigar Advisor Magazine
Cigar Advisor magazine is a digital publication created for real cigar enthusiasts who love tobacco and live the lifestyle. Cigar smokers are passionate about almost everything they do - whether it's the drinks they savor, the food they devour, the cars and motorcycles they dream of, the sports they're fanatical about or the women they love, Cigar Advisor shares those passions with a razor-sharp edge, soaking up each day and experience as if it were our last. Find that passion and more on display at CigarAdvisor.com.