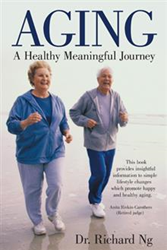 (PRWEB) March 21, 2017
DEKALB, Ill. – Motivated by a desire to see older adults live healthier, more meaningful lives, Dr. Richard Ng wrote "Aging: A Healthy Meaningful Journey" (published by LifeRich Publishing) to educate aging adults about how lifestyle and eating habits impact their quality of life.
Noting that there is an increasing amount of seniors as the baby boomers age, Ng says "Aging" provides information that will allow people in their "Golden years" to lead a healthy life both mentally and physically. The book offers information about how to ease health problems with diet, balance diet with exercise, improve immunity, lessen inflammation, reduce cancer risk and preserve a strong mind.
"A healthy lifestyle and a balanced diet are key ingredients for a good life," Ng says. "There is no way to reverse the aging process, but you can make choices that will help you slow down many of its debilitating effects."
An excerpt from "Aging":
Aging is a multi-faceted process in which bodily structures and functions undergo a negative deviation from the optimum – growing old. The time of your life when age-related changes appear depends on a variety of factors
"Aging"
By Dr. Richard Ng
Hardcover | 6 x 9 in | 158 pages | ISBN 9781489710741
Softcover | 6 x 9 in | 158 pages | ISBN 9781489710734
E-Book | 158 pages | ISBN 9781489710727
Available at Amazon and Barnes & Noble
About the Author
Dr. Richard Ng is an osteopathic physician with a special interest in nutritional health. Ng currently lives in Dekalb, Illinois. He is the author of two other books: "Mindful Eating" and "Overweight or obese? You can lose it."
LifeRich Publishing, the strategic publishing partnership of Reader's Digest and Author Solutions, LLC, was created to provide all writers a platform for sharing their stories, recipes, advice and more. LifeRich authors will benefit from a wealth of editorial design, marketing and education resources, specially created by Reader's Digest editors for the enrichment of these LifeSmart individuals. Books can be published in print, ebook or audio formats, with additional distribution to up to 25 million Reader's Digest customers through its online properties. Follow @LifeRichPub on Twitter or "Like" us at facebook.com/LifeRichPublishing for the latest updates.
###