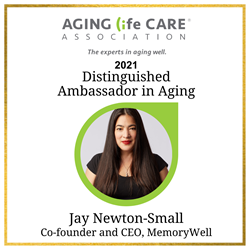 We are thrilled to be honoring Jay this year. Our theme for 2021 is "ALCA Innovates" and Jay's company MemoryWell is an innovative solution for families to preserve their cherished memories and stories of their older loved ones.
TUCSON, Ariz. (PRWEB) March 17, 2021
The Aging Life Care Association® (ALCA), will be honoring author and CEO of the innovative MemoryWell service at its Annual Business Meeting on April 9, 2021.
The Distinguished Ambassador in Aging Award (DAAA) is given to an individual or organization that, through their actions, research, or invention has raised national awareness of a critical issue or need in aging and supports the mission and vision of the Aging Life Care Association. This is the third year the association is honoring an individual at its Annual Business Meeting.
Jay Newton-Small is CEO and co-founder of MemoryWell, a national network of more than 700 professional writers who craft the life stories and family histories of seniors to help improve their care and chronicle their unique stories. The mission of MemoryWell is "building empathy, one story at a time." Her work with MemoryWell advances the importance of helping older adults' quality-of-life experiences with stories that can be shared with family and care providers. Helping older age well and with dignity is one of the foundations of an Aging Life Care Association professional member.
The idea for MemoryWell came from Jay's own experience of caring for her father, who was diagnosed with younger-onset Alzheimer's. By writing down her father's story and sharing it with his caregivers at a long-term care community, she was able to help nurture meaningful connections, build relationships, and transform her father's care.
"Never have our stories been more important as families have become separated from their loved ones during Covid and there's no one to help introduce many patients who can no longer speak for themselves," Newton-Small says. "We're beyond honored by ACLA and hope that we can highlight building empathy and connection back into the system through this award."
Aging Life Care Professionals understand all too well the struggles that can result with clients that have dementia or Alzheimer's. MemoryWell's tool helps assisted living and memory care staff get better acquainted with residents. There are still some limiting protocols in these communities, and MemoryWell can be a meaningful activity, a relationship builder, a resource through which a professional caregiver can be more person-directed in their relationship with these residents. MemoryWell is also useful for home care providers for the same reasons above.
Previously, Jay was Washington correspondent for TIME Magazine, where she remains a contributor. At TIME she covered politics as well as stories on five continents from conflicts in the Middle East to the earthquake in Haiti and the November 2015 Paris terror attacks. She has written nearly a dozen TIME cover stories and interviewed numerous heads of state, including Presidents Barack Obama and George W. Bush. She authored the 2016 best-selling book, Broad Influence: How Women Are Changing the Way America Works. Before TIME, Jay was a reporter for Bloomberg News, where she covered the White House and politics.
"We are thrilled to be honoring Jay this year. Our theme for 2021 is "ALCA Innovates" and Jay's company MemoryWell is an innovative solution for families to preserve their cherished memories and stories of their older loved ones," commented ALCA CEO Taney Hamill.
Aging Life Care Professionals are members of ALCA, a 36-year-old non-profit association of nearly 2,000 highly educated and trained health and human service specialists. Members act as a guide and advocate for families who are caring for older relatives or disabled adults. Educated in any of several fields related to care management, many members also have deep experience with quality of life for their clients. A keepsake book, like one offered by MemoryWell, is a gift for both the older adult and their family as they share and relive the special moments of their life.
About MemoryWell - MemoryWell, Inc. is a digital data platform that promotes person-centered care through life storytelling. The Washington-DC based company was founded by a national correspondent for TIME Magazine, who wrote down her father's story when he entered assisted living. Their national network of freelance professional writers puts the person in person-centered care.
Jay's story: https://www.memorywell.com/aboutus
About the Aging Life Care Association® - Aging Life Care Association® was formed in 1985 to advance dignified, coordinated care for older adults in the United States. Founded by and handful of women entrepreneurs in the social work and nursing fields, the Association has grown to over 2,000 members nationwide, who have cared for about two million older adults over its 36-year history. Members have extensive training and experience working with older adults, people with disabilities, and families who need assistance with caregiving issues. Members must meet stringent education, experience, and certification requirements. Members may be trained in any of number of fields related to long-term care, including nursing, social work, and other allied health professions with a specialized focus on issues related to aging. All members, including Corporate Partners, are required to adhere to a strict Code of Ethics and Standards of Practice. For more information or to access a nationwide directory of Aging Life Care Professionals, please visit http://www.aginglifecare.org.