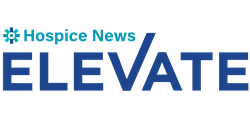 The hospice and palliative care industries are changing rapidly as the government is starting to focus more on this part of the care continuum
CHICAGO (PRWEB) January 29, 2020
Hospice News, an Aging Media Network publication, is hosting the first annual ELEVATE Conference, an event that will explore the business and innovation driving the future of the fast-growing hospice and palliative care industry. (https://hospicenews.com/event/elevate/)
Attendees will get an inside look at the financial, operational, regulatory, and technology trends impacting leaders today.
The conference will be held on November 5, 2020, at Convene, located at 311 W. Monroe, Chicago, Illinois 60606. The full-day event starts at 8 am and will finish at 4 pm giving attendees eight hours to network, learn, and connect with colleagues and industry partners.
The event will bring together hospice leaders, executives, analysts, and will highlight emerging payment models; mergers and acquisitions; clinical and business models for palliative care; and the rise of telemedicine and other technologies.
"The hospice and palliative care industries are changing rapidly as the government is starting to focus more on this part of the care continuum," said John Yedinak, president, and co-founder of Aging Media. "We are excited to bring leaders from these fast-growing industries together and provide unparalleled access to some of the best and brightest minds shaping their future."
The conference is expected to attract 200-300 business executives and professionals from across the U.S. and Canada and will provide opportunities for networking and business development.
ELEVATE presents a variety of opportunities for table top exhibitions, private meeting rooms, and experiential marketing.
For Hospice News ELEVATE sponsorship opportunities, please contact events@agingmedia.com.
About Aging Media Network / Hospice News
Aging Media Network is an innovative publishing company based in Chicago, Illinois, and is the publisher of Senior Housing News, Reverse Mortgage Daily, Home Health Care News and Skilled Nursing News, Hospice News, and Behavioral Health Business.
Hospice News is the leading source for news and information covering the hospice industry. Visit https://hospicenews.com/ for more information.