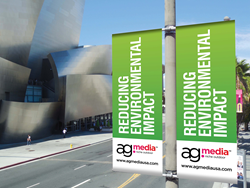 As part of our commitment to reduce our environmental footprint we are constantly testing and researching new products and processes and will be making further enhancements in 2015
Los Angeles, California (PRWEB) September 18, 2014
From the sourcing of materials and inks to the disposal of banners post-use, AGMedia are employing innovative solutions to reduce their environmental impact.
Robert Davis, Sales Director for AGMedia commented, "As we have end-to-end visibility of the supply chain, and represent both manufacturers and end clients, we are in the ideal position to identify opportunities and ensure the industry delivers what is required by today's clients. The environment has been something on our agenda for a number of years and we are delighted to work with vendors to see this improve further in the months and years to come."
Customers play an important role in this process too. At the end of a campaign clients can retain light-pole banners themselves, or alternatively, AGMedia offer the options of banner recycling by an approved local vendor or listing banners for sale in their light-pole banner web store.
The on-line shop is unique in the industry and is a result of AGMedia identifying a demand for banners for use as wall decorations in both retail and private environments. As a result, the company made the decision to invest in an online web store for clients to list their banners for sale. This innovation has lead to clients successfully extending the life of their light-pole banners and receiving additional revenues from sales.
At the other end of the process, for over two years AGMedia have been using ultra-violet curing inks in place of solvent-based inks still commonly used in the industry. Importantly, the UV ink used is not considered a hazardous waste under the US Waster Regulations (RCRA), contain up to 50% naturally derived monomers and oligomers and contain virtually no volatile organic compounds (VOC). This has ensured a significantly lower environmental impact without any impact on the output quality of print.
Mr Davis went on to add, "Moving to UV ink was an important step forward in reducing our impact on the environment however we don't intend to rest here. As part of our commitment to reduce our environmental footprint we are constantly testing and researching new products and processes and will be making further enhancements in 2015."
ABOUT AGMEDIA
As part of The AmGraph Group, AGMedia specialize in City Light Pole Banners (CLPB) in Los Angeles and surrounding areas. As an industry leader in outdoor advertising AGMedia are trusted as a long-term exclusive partner for leading cultural, civic, governmental and non-profit organizations in Los Angeles and Southern California.
For more information on AGMedia visit http://www.agmediausa.com