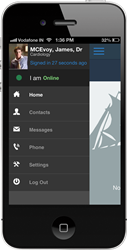 Not only did APTUS MobileCare fit the bill for our current needs, it will meet our future needs as well.
Silicon Valley (PRWEB) May 20, 2014
AGNITY Healthcare (AHI), a leading provider of Integrated Clinical Communications for healthcare providers today announced that Lincoln County Health System (LCHS) has deployed APTUS MobileCare™ PRO for delivering a secure clinical communications system. LCHS chose APTUS MobileCare in a Cloud-based option to minimize upfront investments and maximize returns.
Lincoln County Health System is a full-service health care system serving Lincoln County, Tennessee. It is a multi-faceted health care system whose mission is to provide life-long health care for the people it serves. In addition to a 59-bed acute care hospital, the system consists of a freestanding rehabilitation and wellness center, a 240 bed licensed nursing home, a home health and hospice agency, and an ambulance/EMS service. The facilities are county-owned and are governed by the Lincoln County Health System Board of Trustees.
APTUS MobileCare™ PRO is a zero integration secure patient-centric contextual messaging and communications solution. It provides clinical communications workflow benefits that helps the care team reduce errors. Those benefits include real-time availability and status of care team members, nurse to physician and clinician consults; text, voice and picture messaging; on-call scheduling, reporting and audits logs. It's simple, easy to use and available on smartphones, tablets and desktops. The clinical staff's response times for routine clinical communications using pagers, cell phones, email and other non-integrated communications devices can be reduced by as much as 60% with APTUS MobileCare.
"We were looking for a secure communication platform that our staff would be excited to use with low overhead from a deployment and support perspective. Not only did APTUS MobileCare fit the bill for our current needs, it will meet our future needs as well," said John Lavender, Director – Information technology at Lincoln County Health System.
"We are excited to have an innovative health system like Lincoln as a customer," exclaimed Ken Epps, President & CEO at AGNITY Healthcare. "We designed APTUS MobileCare so that customers like LCHS could start simple, and expand as their business dictates to enjoy the expanded benefits of APTUS MobileCare, without burdening their nurses and physicians with re-training and new user interfaces in the future. We look forward to Lincoln County Health System benefiting from the current and expanded benefits of APTUS MobileCare."
APTUS MobileCare™ is an award-winning solution that improves clinical communications workflow among clinicians in a patient's circle of care. The results are higher clinician and patient satisfaction and retention, and improved ROI. The solution is improving the state of clinical communications & collaboration across the US and Asia.
About AGNITY Healthcare
AGNITY Healthcare is a leading provider of communications technologies and services that harness the power of mobility and the Internet to improve clinical communications and the quality of healthcare. AGNITY Healthcare solutions deliver the freedom of healthcare on demand by connecting patients, doctors, payers and hospitals anytime, anywhere. By helping healthcare scale to reduce costs, expand capacity, and improve productivity of healthcare delivery, AGNITY Healthcare helps improve patient care and the patient-provider relationship.
For more information, visit http://www.agnityhealthcare.com.
AGNITY HealthCare contact:
Media Relations Team
media_relations(at)agnity(dot)com
(510) 270-5412
AGNITY HealthCare®, the AGNITY HealthCare® logo, APTUS™, MobileCare™ and combinations thereof are trademarks of AGNITY Healthcare, Inc. in the United States and other countries. Other names, logos, brands, and trademarks listed or referred to are the property of their respective trademark holders. The trademark holders are not affiliated with AGNITY HealthCare, Inc. and do not sponsor or endorse these materials or its products. All rights reserved.