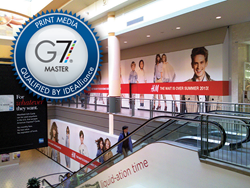 We offer clients 100% color consistency across their retail graphics projects with G7 Master Printer Certification
Ontario, California (PRWEB) May 24, 2016
Assured Consistency For Retail Brand Managers
Whether overseeing branding for a small independent store or monitoring adherence to brand guidelines for a national retail chain, or state wide restaurant chain, consistency in brand image is of utmost importance. There can be no variation between stores, or between promotional and printed material. For many stores and chains, brand standards state a color scheme for all logos and point-of-purchase dictated by PMS spot colors. Where ever the color appears on printed posters, store fronts, retail barricades or banners, it must look exactly the same and ensuring the printed color matches this PMS number guarantees consistency. This level of reassurance is priceless.
The majority of large format printers may say they can match a PMS colors but do they guarantee this? AGRetail are proud to announce they have been awarded G7 Master Printer Certification.
This is a global specification which utilizes gray alongside a 7-color process to produce a precisely controlled, unified, high quality print result. G7 ensures that whatever graphics are printed, every substrate, printed material, and every size will result in a common appearance to the client's exact specifications.
Robert Davis, The AmGraph Group Sales & Marketing Director said, "As part of a commitment to delivering exceptional service to clients and helping them build their retail brand, AGRetail are delighted to be able to offer clients 100% color consistency across their retail graphics projects with G7 Master Printer Certification."
AGRetail are one of only just over 1000 printers, that can offer the assurance of G7 Master Printer Certification. Offering color consistency across the full range of retail branding solutions including innovative store fronts, retail barricades, and point-of-purchase displays while respecting and promoting brand identity through accurate and 100% reliable reproduction of brand colors.
To find out more about branding and retail solutions from AGRetail, visit the website.
ABOUT AGRETAIL
As part of the AmGraph Group, AGRetail is responsible for creating retail-branding experiences for leading US and global clients. This includes creation, implementation and management of retail interior and exterior branding. With an installation network across North America and beyond, AGRetail offers a complete solution for retail brands in the United States.