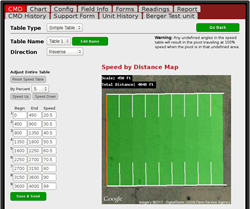 First significant update in this industry featuring a comprehensive new section for control of linear irrigation units.
Huron, South Dakota (PRWEB) June 11, 2015
AgSense, the industry leader in remote-managed irrigation controls, has announced an important software update to growers using the AgSense Field Commander hardware to monitor and control their linear/lateral irrigation units.
"This significant update is the only one of its kind in the industry and features a comprehensive new section for control of linear irrigation units," said AgSense software development engineer Aaron Berger.
The update allows user-selected options to be managed remotely by setting a distance from a designated field boundary, including stop-in-slot, variable speed, and end-gun control. It also includes a series of linear-specific reports that helps growers evaluate their irrigation plan so they can easily comply with water usage reporting requirements.
The updated software is free and has been integrated into AgSense's dashboard, WagNet. It currently is available on the desktop version with mobile app updates planned for later in the year.
Several newly released functions require that Field Commander units be upgraded to firmware version 41 or higher, which can be completed remotely by AgSense tech support.
To schedule a free remote firmware update, customers can call 605-352-8350 or make a request through AgSense LiveChat at AgSense.net or WagNet.net, or via the AgSense Facebook page.
About AgSense: Compatible with virtually every brand of center pivot and linear irrigation system, AgSense is the world leader in irrigation technology with installations on more remote-managed systems than all other brands combined. Headquartered in Huron, South Dakota, AgSense, LLC is owned by Valmont Industries, Inc.
For more information, visit AgSense.net.
###