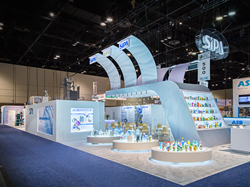 AGSoest can offer faster turn-around times, provide clients with even greater flexibility and importantly we retain complete control over the quality of event graphics
Ontario, California (PRWEB) July 27, 2017
As a merger of respected brands from the print and exhibition industries, AGSoest is able to offer full service trade show solutions, graphics and event management. The name for the new company was chosen to represent their partnership, combined strength and industry experience.
Soest & Associates, Inc has been producing trade show booths and exhibition solutions for clients like Microsoft and Walt Disney since 1987. Their former President, and now Director of AGSoest, Fred Van Soest, Jr. however, has been in the industry since the 1970s.
Commenting on the merger, Mr Van Soest said, "It's rare to find two companies so perfectly aligned in terms of vision and services. Combining the trade show experience and industry knowledge of Soest & Associates with the print capability and infrastructure of The AmGraph Group made perfect business sense and added instant value for customers of both businesses."
The AmGraph Group is a hybrid of a creative advertising agency combined with a premium quality print production facility. The nationwide supplier of premium print, graphic and digital solutions for brands includes outdoor advertising company AGMedia, retail design and graphics company AGRetail, decorative window film company HDClear and barricade company Mall Wall.
Brian Stewart, President of The AmGraph Group added, "I'm delighted to have formed a partnership with Fred and the entire team at Soest & Associates. Together, we believe our clients will benefit from the complimentary services and experience and enjoy an unparalleled level of service."
In merging, Soest & Associates and The AmGraph Group have created an end-to-end event partner. In addition to trade show booth design, production, consultancy and event management, AGSoest is able to manage all print in-house.
Speaking on this augmented solution, Mr Van Soest, Jr remarked, "The benefit of having complete end-to-end management and large format printing in-house cannot be underestimated. AGSoest can offer faster turn-around times, provide clients with even greater flexibility and importantly we retain complete control over the quality of event graphics."
More information on the merger of The AmGraph Group with Soest & Associates Inc, and details of the brand implementation, large format graphic and professional trade show solutions available through AGSoest, can be found on their new website at http://www.AGSoest.com.