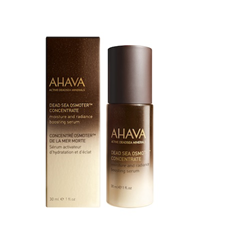 After 1 month: 85% of users saw more youthful skin and91% of users reported a more luminous complexion
(PRWEB) September 17, 2014
To think that a skincare brand was born out of sheer scientific discovery is unusual in the beauty world. The AHAVA Laboratories have shared their findings of skin-enriching minerals from the Dead Sea for years — and the discoveries just keep getting better. Since 1988, AHAVA has built its reputation on harnessing the power of Osmoter™ – the brand's proprietary, balanced blend of natural Dead Sea Minerals found in all of its products — to increase skin's vitality and enhance moisture.
Now, 26 years later, a new technology was created in Dead Sea Osmoter™ Concentrate to deliver 3Xs more Osmoter™ to recharge, rehydrate and illuminate skin by boosting cellular turnover activity. Enhanced with Aquaporin 3 to deliver more moisture and radiance to the skin's cells, its primer-like texture contains high levels of saline water while retaining a gel structure.
The Dead Sea Osmoter™ Concentrate is a skin optimizing concentrate that counteracts the damage from the aging process and environmental aggressors for women of all ages and skin types. An ideal addition to any skincare regimen, proteins found in the concentrate regulate cellular water flow that results in plumper, more hydrated and younger-looking skin. Within 14 days, Dead Sea Osmoter™ Concentrate boosts skin's natural radiance, giving it a "lit from within" look. Skin has increased moisture capacity, clarity and softness — revealing a luminous complexion. After 1 month:
85% of users saw more youthful skin
91% of users reported a more luminous complexion
95% reported skin felt softer
93% reported their skin felt smoother
Also part of the Dead Sea Osmoter™ family is the new Eye Concentrate — a triple-benefit eye serum that combats dark circles, recharges cellular energy around the eye area and helps to fight under-eye puffiness with cucumber and aloe vera. Its Pearl and Pigment Travel Technology illuminates skin upon application for a wide-awake appearance.
For a body as radiant as the face, the new Dead Sea Osmoter™ Body Concentrate acts as an intensive skin-correcting serum to help improve skin's appearance for a more uniform look, while protecting it from environmental aggressors with fortified vitamin C for moderate exfoliation. Skin is left looking brighter and evenly toned, as brown algae reduces and prevents the formation of dark spots, ensuring skin will have a bright future.
EXCLUSIVE OFFER: Get 10% OFF on all AHAVA Dead Sea Osmoter products on Amazon.com by clicking here >> #AHAVAatAMAZON
********************************************************************
BeautyStat.com is an online beauty retail platform (that features makeup, skincare and haircare reviews). It has been featured in Women's Wear Daily, LA Times, New York Times, Forbes Magazine, NBC and CBS News. The strength of BeautyStat.com is its captive, engaged and influential 200,000+ community, 400+ blogger network and 40 million social network reach. BeautyStat.com works with beauty brands, retailers and PR agencies to connect them to the BeautyStat community for e-commerce, advertising and rich consumer insights.