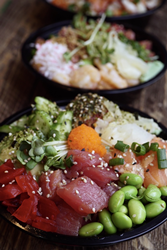 DIAMOND BAR, Calif. (PRWEB) March 12, 2019
Celebrating three years in business, Ahipoki is offering 50% off all bowls on Monday, April 1, 2019 at all 26 locations in Arizona and California*. The popular poke restaurant is also giving two lucky guests a chance to win FREE poke bowls for an entire year. Entries will be accepted online starting March 13, 2019 at http://www.ahipoki.com and at every location on April 1, 2019 only.
Ahipoki opened their first location in Temple City, California in December 2015 followed by their much anticipated second location in Scottsdale, Arizona in April 2016. The company brought the very first poke restaurant concept to Arizona and has since grown rapidly and named in the "Top 10 Poke Restaurants in the Nation" by USA Today.
Poke, a Hawaiian based dish featuring diced sushi grade fish like ahi tuna, salmon, shrimp and yellowtail garnished with vegetables and exotic toppings like daikon sprouts, seaweed salad and masago served over a bowl of rice is a popular concept across America.
"Our strong customer base and social following have been the backbone of Ahipoki's success, and we're pleased to be able to offer our guests such a great deal on our three-year anniversary," explained Jason Jantzen, Managing Partner of Ahipoki.
Contest will be open starting March 13, 2019 online and ending at 11:59 pm on April 1, 2019. Guests can enter online or visit any store on day of event. Must be 18 to enter. There will be one winner in California and one winner in Arizona who will each receive a poke bowl every week for a year, each prize valued at over a $600 value. No purchase necessary to enter. Winners will be announced on April 5, 2019 via social media and notified by email.
Fans can stay up-to-date with Ahipoki in Arizona by "Liking" Ahipoki on Facebook at http://www.facebook.com/ahipokiAZ or follow on Instagram at http://www.instagram.com/ahipokibowl. In California, visit http://www.facebook.com/ahipoki and follow on Instagram at http://www.instagram.com/ahipoki *This deal excludes Rialto, CA location opening soon. There will be a separate grand opening celebration after opening.
.
More information and rules on contest, visit http://www.ahipokibowl.com.
About Ahipoki:
The Ahipoki concept was born out of the desire of a restaurant group wanting to bring a much needed health-conscious California seafood restaurant with a south pacific flair to its customers. Health conscious fish lovers can sit down and relax in a laid back atmosphere all while enjoying the fusion of Japanese and Hawaiian flavors coupled with a fresh fish experience normally found outside of a quick serve restaurant.