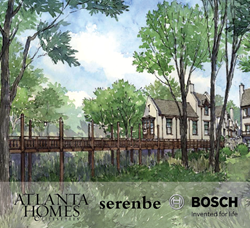 rediscovering what it means to build community and create place, to think about life as a piece of art where we can bring beauty to the small moments in life.
Chattahoochee Hills, GA (PRWEB) August 07, 2014
Announcing the first ever Atlanta Homes & Lifestyles Designer Showhouse at Serenbe, opening September 6th, 2014. The Designer Showhouse is nestled in nature with architecture inspired by the charming English village of Bibury and connects to shops and restaurants by a footbridge set above a stream winding it's way to Grange Lake.
Architects Robert Pulliam and Eddy Rhinehart of Rhinehart Pulliam & Company designed the luxury showhouse, it was built by John Bynum of Bynum Homes http://www.bynumhomes.com, and is located in the newest neighborhood of Serenbe, Swann Ridge. A second home is also available to tour that features a beautiful designer kitchen. The homes will showcase more than 12 designers over three floors including a landscaped terrace level.
Steve and Marie Nygren, Serenbe founders, see the Atlanta Homes & Lifestyles partnership as integral to "the journey that has led us to become placemakers, where we are rediscovering what it means to build community and create place, to think about life as a piece of art where we can bring beauty to the small moments in life."
Featured showhouse designers include Kerry Howard of KHM Interiors, Janie K. Hirsch of J. Hirsch Interior Design, Lanah Jackson of Robert Brown Interior Design, Melanie Millner of The Design Atelier, Yvonne McFadden of Yvonne McFadden, LLC., James Wheeler of J. Wheeler Designs, Hope Vanzant of HMS Designs, Julie Witzel of Julie Witzel Interior Design, Karen Ferguson of Harrison Design, Melanie Davis Bracey of Melanie Davis Design, Niki Papadopoulos of Mark Williams Designs Associates and Missy Madden with H. Todd Yeager of Bellwether Landscape Architects. More information at http://atlantahomesmag.com/serenbe-designer-showhouse.
The Serenbe Designer Showhouse is open to the public September 6 – 28th, Thursday – Saturday 10 a.m. to 6 p.m. and Sundays from Noon to 6 p.m. Tickets are $20 per person and can be purchased at serenbe.com/events.
Group tours are also available Monday - Friday for parties of 10 or more and a sit down lunch at The Farmhouse can also be booked on the same day. To book a group tour or lunch, contact the Inn at Serenbe via heather(at)serenbe(dot)com or (770) 463-2610.
Launching the month of Designer Showhouse events and programming is the Preview Party, Friday, September 5th, an intimate Artist Dinner on Saturday, Sept 6th, the Closing Party at The Art Farm on September 27th, featuring musical guests the Shadowboxers. Special events throughout the month of September include book signings, hayrides, wine tastings, garden and farm tours plus designer programming and cooking demonstrations. For more information and to reserve tickets visits http://serenbe.com/events
Showhouse sponsors include Bosch Thermotechnology who is also hosting on-site tickets sales at The Bosch Experience Center, The Inn at Serenbe, The Farmhouse restaurant, The Blue Eyed Daisy, Serenbe Farms, Resource, and Marie Nygren's Serenbe Style & Soul. Contributing sponsors include American Standard, Architectural Visions, Inc., Kingdom Woodworks, Thermador and Porcelanosa.
Proceeds from the Designer Showhouse directly benefit The Art Farm, a 40-acre complex that will serve as the central place for artists, the arts and culture at Serenbe. The complex is deeply rooted in process, education and creating multiple platforms for creativity. With the aspiration is to convene and house multiple artists at a time, the Art Farm is a response to this need and creates an essential physical place for the arts at Serenbe.
About Serenbe
Serenbe is pioneering a new community model connected to nature on the edge of Atlanta. It is a neighborhood with fresh food and fresh air that makes wellbeing as natural as nature itself. A purposeful community where people live, work, learn and play in celebration of life's beauty. Where connections between people, nature and the arts are nourished. Two innovative teams of designer architects, Ryan Gainey and Mark Mosley, and Robert Pulliam and Eddy Rhinehart, designed The Swann Ridge neighborhood that will have 28 masonry cottages along with town homes, apartments and boutique retail. http://www.serenbe.com #SerenbeShowhouse
About Atlanta Homes & Lifestyles
Published since 1983, Atlanta Homes & Lifestyles is the South's leading monthly design magazine. http://www.atlantahomesmag.com/