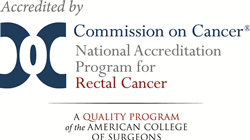 PITTSBURGH (PRWEB) March 14, 2019
AHN Cancer Institute's Rectal Cancer Program is First in Region, Sixth in U.S., to Earn National Accreditation
Allegheny Health Network (AHN) Cancer Institute's Rectal Cancer Program is the sixth in the nation, and first in western Pennsylvania, to earn accreditation from the National Accreditation Program for Rectal Cancer (NAPRC), a program launched last year and administered by the American College of Surgeons (ACS) in conjunction with the American Cancer Society.
NAPRC accreditation is granted only to programs that commit to providing high-quality care to patients with rectal cancer. Each rectal cancer program must undergo a rigorous evaluation and review of its performance and compliance with the highest NAPRC Standards.
"This accreditation is the result of a team effort by our rectal cancer caregivers, and reflects the compassionate, expert care they provide to our patients every day," said James McCormick, DO, medical director of AHN Cancer Institute's Rectal Cancer Program.
"Rectal cancer is not a cancer that gets a lot of attention, thus someone who is diagnosed with rectal cancer may feel very alone. That is just one reason why the kind of multidisciplinary, patient-centered collaborative care offered by NAPRC-accredited programs is so important," Dr. McCormick said. "Rectal cancer is very treatable when caught early, but can be challenging to treat in its later stages. This accreditation indicates that AHN's program is at the forefront of rectal cancer care, following rigorous standards and best practices."
Rectal cancer, which develops in the last six inches of the large intestine, is often grouped together with colon cancer and referred to as colorectal cancer. Together, the two diseases are the third leading cause of cancer deaths among both men and women in the U.S.
To earn the voluntary accreditation, AHN Cancer Institute's Rectal Cancer Program met 19 standards, including the establishment of a rectal cancer multidisciplinary team of experts with clinical representatives from surgery, pathology, radiology, radiation oncology, and medical oncology, who meet weekly to tailor an individualized treatment plan to each and every patient treated at AHN.
Thirteen of those standards address clinical services that the program was required to provide, including the use of advanced testing for ongoing assessment of the effectiveness of treatment, and advanced imaging for cancer staging. One of the most important clinical standards requires all rectal cancer patients to be presented at both pre- and post-treatment meetings of the multidisciplinary team.
The AHN rectal cancer care team includes five surgeons, five medical oncologists, five radiation oncologists, four radiologists, three pathologists, five physicians and two nurse navigators. Rectal cancer care at AHN is centered at Allegheny General Hospital on Pittsburgh's North Side and Forbes Hospital in Monroeville, and integrated throughout AHN Cancer Institute's 23 treatment sites throughout the region."When a cancer center achieves this type of specialized accreditation it means that their rectal cancer patients will receive streamlined, modern evaluation and treatment for the disease. Compliance with our standards will assure optimal care for these patients," said David P. Winchester, MD, FACS, Medical Director of ACS Cancer Programs.
"All of us at AHN Cancer Institute congratulate Dr. McCormick and his team on this achievement," said David Parda, MD, Chair, AHN Cancer Institute. "This accreditation confirms that they are doing exceptional work, keeping patients connected with the multidisciplinary care team and giving patients a voice in their treatment. They are providing the most advanced care, best possible outcomes, and leading expertise for rectal cancer patients."
The NAPRC was developed through a collaboration between the Optimizing the Surgical Treatment of Rectal Cancer (OSTRiCh) Consortium and the Commission on Cancer (CoC), an ACS quality program. It is based on successful international models that emphasize program structure, patient care processes, performance improvement, and performance measures. Its goal is to ensure that rectal cancer patients receive appropriate care using a multidisciplinary approach.
For more information about the program, and instructions on how to apply for accreditation, please visit the NAPRC website, or contact NAPRC(at)facs.org.
# # #
About Allegheny Health Network
Allegheny Health Network, a Highmark Health Company, is a western Pennsylvania-based integrated healthcare system that serves patients from across a five state region that includes western Pennsylvania and the adjacent regions of Ohio, West Virginia, Maryland and New York. The Network's Cancer Institute employs more than 200 physicians and 500 oncology professionals who provide a complete spectrum of oncology care at more than 20 affiliated oncology clinics, including access to state-of-the-art technologies and new therapies being explored in clinical cancer trials. The Cancer Institute has the only cancer program in the Pittsburgh region with Integrated Network Cancer Program accreditation by the American College of Surgeons Commission on Cancer, and its radiation oncology program is the largest in the country accredited by the American College of Radiology. AHN Cancer Institute is a Quality Oncology Practice Initiative certified practice, and is accredited by the Foundation for Accreditation of Cellular Therapy and National Accreditation Program for Breast Centers. AHN also has a formal affiliation with the Sidney Kimmel Comprehensive Cancer Center at Johns Hopkins, one of the nation's 41 comprehensive cancer centers designated by the National Cancer Institute, for research, medical education and clinical services. To schedule an appointment with an AHN oncologist, please call 412.DOCTORS or visit http://www.ahn.org/find-a-doctor.
About the American College of Surgeons
The American College of Surgeons is a scientific and educational organization of surgeons that was founded in 1913 to raise the standards of surgical practice and improve the quality of care for all surgical patients. The College is dedicated to the ethical and competent practice of surgery. Its achievements have significantly influenced the course of scientific surgery in America and have established it as an important advocate for all surgical patients. The College has more than 80,000 members and is the largest organization of surgeons in the world. For more information, visit http://www.facs.org.