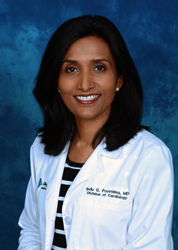 We have been honored to have Dr. Poornima on staff at AGH for nearly two decades, and the countless patients she has treated during that time have been fortunate to put their heart care in her hands.
PITTSBURGH, Pa. (PRWEB) April 05, 2019
Allegheny Health Network (AHN) has appointed Indu Poornima, MD, as the Yvonne B. Maher Endowed Professor in Cardiovascular Disease Prevention. Dr. Poornima, Director of AHN's Women's Heart Center since 2008, spent several years as a colleague of Dr. Maher's, one of the first female cardiologists at Allegheny General Hospital (AGH).
"With her expertise in cardiac disease prevention, and particularly heart care for women, Dr. Poornima was a clear-cut choice to receive this appointment," said Srinivas Murali, MD, Co-Chairman, AHN Cardiovascular Institute and Interim Chairman, Department of Cardiovascular Medicine at AHN. "We have been honored to have her on staff at AGH for nearly two decades, and the countless patients she has treated during that time have been fortunate to put their heart care in her hands."
AGH officials announced the formation of the professorship in Dr. Maher's honor at the inaugural Yvonne B. Maher Memorial Lecture on Heart Disease in Women in February. Dr. Maher was the first woman to graduate from Georgetown University with a bachelor's of science degree and later became the first female interventional cardiologist at AGH. She retired in 2014 and passed away two years later.
"Yvonne helped to pave the way, and I strive every day to honor her legacy of always putting the patients' needs first," said Dr. Poornima. "I am humbled to receive this professorship and excited that is will help to support the work we do at AHN's Cardiovascular Institute as clinicians, teachers, and researchers for years to come."
Dr. Poornima completed an advanced fellowship in nuclear cardiology from the Mayo Clinic, before joining the cardiovascular program at AGH in 2000. In addition to overseeing the AHN Women's Heart Center, she is Medical Director, Nuclear Cardiology at AGH; Program Director, Cardiovascular Disease Fellowship Program, AHN; and Division Director of Cardiovascular Disease Prevention at the AHN Cardiovascular Institute. Dr. Poornima also is President-elect of the American Heart Association, Greater Pittsburgh Region Board of Directors, with her term starting this July.
Cardiovascular disease remains the number one cause of death in America, including killing more women every year than all forms of cancer combined. As awareness about cardiovascular disease rates among women is climbing, heart care specialists now hope to spark lifestyle changes in women that can have an impact on the sobering cardiovascular statistics.
Dr. Poornima works closely with her patients on taking the proper steps to help reduce their risk of heart disease and heart attacks. That includes identifying risk factors that may be unique to women and providing guidance on diet, physical activity, weight management, smoking cessation, and properly managing blood pressure, blood sugar, and lipids.
With a focus on helping women gain a greater awareness of cardiovascular disease, and teaching them the proper preventive measures, AHN's Women's Heart Center provides female patients access to an array of gender-specific preventive, diagnostic, and therapeutic heart-related services.
###
About the Allegheny Health Network
Allegheny Health Network (AHN.org), a Highmark Health company, is an integrated healthcare delivery system serving the greater Western Pennsylvania region. The Network is composed of eight hospitals, including Allegheny General Hospital, its flagship academic medical center in Pittsburgh, Allegheny Valley Hospital in Natrona Heights, Canonsburg Hospital in Canonsburg, Forbes Hospital in Monroeville, Jefferson Hospital in Jefferson Hills, Saint Vincent Hospital in Erie, West Penn Hospital in Pittsburgh and Westfield Memorial Hospital in Westfield, NY. The Network provides patients with access to a complete spectrum of advanced medical services, including nationally recognized programs for primary and emergency care, cardiovascular disease, cancer care, orthopedic surgery, neurology and neurosurgery, women's health, diabetes and more. It also is home to a comprehensive research institute; Health + Wellness Pavilions; an employed physician organization, home and community based health services and a group purchasing organization. The Network employs approximately 20,000 people, has more than 2,400 physicians on its medical staff and serves as a clinical campus for Drexel University College of Medicine, Temple University School of Medicine, and the Lake Erie College of Osteopathic Medicine.