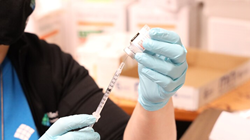 "The reality of the situation is that pregnant women who choose to not receive their vaccination put themselves at an unnecessary risk and there have been devastating cases of mothers not making it through COVID-19 infections to meet their newborn babies," said Dr. Ellen Hancox, AHN OB/GYN
PITTSBURGH and ERIE, Pa. (PRWEB) January 07, 2022
Allegheny Health Network's (AHN) Women's Institute is strongly urging all pregnant patients to get vaccinated against COVID-19 amid the latest pandemic surge caused by the sweeping Delta and Omicron variants across the communities of western Pennsylvania. The Network's obstetrician-gynecologists (OB/GYN) and maternal fetal medicine (MFM) physicians have come together to adamantly encourage those who have not yet received their vaccinations to do so as soon as possible for their health and the health of their babies.
The recommendation comes on the heels of the latest study published just this week by the U.S. Centers for Disease Control and Prevention (CDC) stating that COVID-19 vaccination during pregnancy is not associated with preterm delivery or underweight newborns. This is the latest proof point in the growing body of evidence that demonstrates the vaccines' safety and efficacy, especially when measured against reported outcomes among unvaccinated pregnant populations with COVID-19 infections.
"In an immunosuppressed state, unvaccinated pregnant women and their babies are at an increased risk of severe outcomes from COVID-19 including hospitalization, stillbirth and even death," said Marcia Klein-Patel, MD, PhD, OB/GYN physician and Chair of AHN Women's Institute. "On behalf of the many physicians and clinicians which comprise the AHN Women's Institute, we can't express enough the importance of pregnant women receiving their COVID-19 vaccination not only for their health and well-being but for the health of their babies."
In November, the CDC published data that showed pregnant women infected with COVID were three times more likely to die compared to infected non-pregnant women of the same reproductive age, and the Delta variant has caused that rate to grow five-fold. The Delta variant also led to a striking increase in the risk of stillbirths among pregnant women with COVID-19 – from 47% to 304% – when compared to the uninfected.
"The reality of the situation is that pregnant women who choose to not receive their vaccination put themselves at an unnecessary risk and there have been devastating cases of mothers not making it through COVID-19 infections to meet their newborn babies," said Ellen Hancox, MD, OB/GYN at AHN Women's Institute – OBGYN/Erie. "It's a privilege to serve the patients who entrust us with their care and to that end, it's our responsibility to continue to emphasize the importance of COVID-19 vaccinations for a patient population with alarmingly low acceptance rates, especially with the arrival of the highly contagious Omicron variant."
Across the country, just a little over 30% of pregnant women are vaccinated against COVID-19, even as nearly 70% of the general population has received at least their first dose, according to the CDC. Anecdotally, AHN continues to see an increase of pregnant women willing to receive the vaccine but still not at extremely high rates.
"We believe in the science of the COVID-19 vaccine and its ability to protect expectant and new mothers from severe outcomes, especially death. Furthermore, vaccination has been shown to boost COVID antibodies in mothers' umbilical cords and breastmilk, passing on this vital protection to vulnerable newborns," said Ron Thomas, MD, maternal fetal medicine physician and clinical vice chair of AHN Women's Institute. "There's no reason to delay and if fear of vaccination persists, we strongly encourage our patients to speak with their physicians for further guidance and to dispel any misinformation."
The American College of Obstetricians and Gynecologists (ACOG) and the Society for Maternal-Fetal Medicine (SMFM), the two leading organizations representing specialists in obstetric care, recommended that all pregnant individuals be vaccinated against COVID-19, including booster shots, with a clinical preference for either the Pfizer-BioNTech or Moderna vaccination series.
Patients who wish to schedule an appointment for a vaccine may do so by visiting the Network's online scheduling portal at ahn.org/coronavirus/vaccine/schedule, accessing their MyChart account, contacting their AHN OB/GYN or primary care physician or reaching out to their local pharmacy.
###
About the Allegheny Health Network:
Allegheny Health Network (AHN.org) is an integrated healthcare delivery system serving the greater Western Pennsylvania region. The Network is composed of 12 hospitals, ambulatory surgery centers, Health + Wellness Pavilions, an employed physician organization, home and community-based health services, a research institute, and a group purchasing organization. The Network provides patients with access to a complete spectrum of advanced medical services, including nationally recognized programs for primary and emergency care, trauma care, cardiovascular disease, organ transplantation, cancer care, orthopedic surgery, neurology and neurosurgery, women's health, diabetes, autoimmune disease and more. AHN employs approximately 21,000 people, has more than 2,500 physicians on its medical staff and serves as a clinical campus for Drexel University College of Medicine, Temple University School of Medicine, and the Lake Erie College of Osteopathic Medicine.