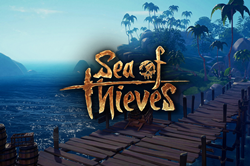 One of our biggest initiatives for 2019 is further connecting our licensed partners with our community of over 60,000 artists.
CHICO, Calif. (PRWEB) January 28, 2019
Design By Humans is excited to announce the launch of new designs for the pirate-themed multi-player game, Sea of Thieves, from Microsoft Studios and Rare. The visually stunning and action-packed Sea of Thieves promises wild adventures, hidden treasures, and the full pirate experience. Join a pirate's crew and sail the seven seas with this exciting shared world video game.
DBH is calling on its talented community of artists to design artwork for the new Sea of Thieves game and enjoy the opportunity to be a part of a unique DBH "FanShop" launch. DBH recognizes the immense talents of its global artist community and is excited to offer an exclusive chance for artists to create artwork, with the potential to become officially licensed apparel and merchandise.
All interested pirates will be given a design brief – agreed upon by the Sea of Thieves headquarters – with instructions in creating the most seaworthy and pirate-approved graphics. All artwork submitted and accepted by the Sea of Thieves brand will be sold as Sea of Thieves apparel in the Officially Licensed Sea of Thieves store on Design By Humans. Pirate booty and hidden treasures are for the fishes; artists will receive a royalty payment for every design they sell on the DBH store instead.
DBH's Director of Business Development, Trey Swartz, says "One of our biggest initiatives for 2019 is further connecting our licensed partners with our community of over 60,000 artists. We felt the Sea of Thieves fan base was a great fit with our existing culture and as such ideal for this program." DBH recognizes that the imaginative Sea of Thieves graphics are the perfect inspiration for its artist community to produce their own distinctive artwork for the brand. The vibrant colors, wild characters, and exciting sea adventures are an invitation to create something amazing. Every artist finds inspiration from the world around them; now artists can find inspiration from the world they wished they lived in: the exciting Sea of Thieves world. It's the pirate's life for them.
Walk the plank and learn more about the Sea of Thieves FanShop launch at Design By Humans.
About Design By Humans
Design By Humans offers a platform for artists, gamers, and YouTubers to create and showcase their unique artwork as phone cases, wall prints, and fashionable tees, tanks, and more. With 10 years of experience, Design By Humans has woven a shared spirit that thrives on designing vibrant and meaningful art. To learn more about the vision, please visit:
https://www.designbyhumans.com/.
DBH works to build an environment that respects collaboration, quality, integrity and the entrepreneurial spirit. The DBH community is inspired by the comical as well as the abstract, the imagined and the concrete; and works to create innovative art that is an expression and a reflection of today's society.
We are gaming fiends, cat-enthusiasts, and pop culture fanatics. Most importantly, however, we are a passionate team of independent creators who buzz for the next buzz word, whistle as we work, and create designs that inspire the next generation of trendsetters from around the world.
To become a part of the Design By Humans community and submit designs today, we encourage you to visit: https://www.designbyhumans.com/become-an-artist/ and learn more!
Follow Design By Humans on Facebook at /DesignByHumans, on Instagram at DesignByHumans with #designbyhumans, and on Twitter @DesignByHumans.