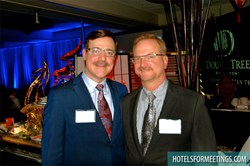 "Rick's wealth of experience and industry knowledge has already made him a key addition to the AHR team. His appointment is a demonstration of our commitment to maintaining our reputation as a leader in the Hotel Site Selection industry. - Ron Robertson
Washington DC (PRWEB) December 03, 2013
AHR Hotel Site Selection (http://www.hotelsformeetings.com/) is proud to announce that Richard Prescott has joined the firm to further develop AHR's growing list of Associations, Corporations and Government Agencies who depend on AHR for personalized, concierge-level hotel site selection and conference planning for Meeting Planners.
Richard Prescott comes with a wealth of diverse experience within the Hospitality and Travel Industries, having spent a number of years as the President and owner of CityOasis - a collection of luxury vacation rental homes in Palm Beach, Florida. At CityOasis Prescott developed, managed and successfully marketed a portfolio of popular rental properties (which featured historic Florida homes and apartments with swimming pools in private tropical compounds) with a self-designed website and by utilizing numerous advertising campaigns and Internet travel portals. The popularity of the homes caught the attention of Europe's TUI Wolter's Reisen, which contacted CityOasis to represent the homes - the first on Florida's East Coast to be represented by Europe's largest tour operator specializing in vacation rentals.
Prescott has updated AHR's corporate identity, developed the firm's new website Hotelsformeetings.com and will continue with other marketing and social media strategies to capture new meeting planner clients and retain long term AHR clients going as far back as 22 years.
Before Hospitality, Richard Prescott was a part of the Real Estate Development Industry where he was involved in the design and marketing of numerous real estate developments across the US and Dubai, UAE. At AHR Hotel Site Selection, Prescott can continue his success in utilizing the latest Internet marketing, social media strategies and web design/communications that capture and retain the attention and trust of potential hospitality clients.
Ron Robertson, President and founder of AHR: "Rick's wealth of experience and industry knowledge has already made him a key addition to the AHR team. His appointment is another demonstration of our commitment to maintaining our reputation as a leader in the Hotel Site Selection industry. Increasing demand from our hotel site selection customers led us to look for an addition to our team who will fit in with our ethos of exceptional service and bespoke communication with our clients. We're very fortunate that we were able to find someone of Rick's caliber to fulfill this role and I'm confident that Rick will play a key role in implementing new marketing and communications initiatives that benefit our long term clients and new ones as well."
About AHR Hotel Site Selection:
AHR is a full service Hospitality Industry Service Provider (http://www.hotelsformeetings.com/) that offers Meeting Planners a complete range of site selection services that suite their needs. Providing a single point of contact, AHR assists the busy meeting planner with; Site Inspection Assistance, Comprehensive Comparative Analysis, Savvy Contract Negotiation, Worldwide Representation and Extensive Product Knowledge. AHR's understanding, experience and connections in the Hotel Site Selection Industry are unparalleled - and because hotels compensate AHR directly, there is no cost for their expert services. For more information about AHR Hotel Site Selection for Meeting Planners – please see their site:
Hotels for Meetings
http://www.hotelsformeetings.com/
To book Hotels for Meetings and Conferences, contact Annie Diaz-Cannon - Director Of Sales; Annie(at)ahrinc(dot)com 703-516-0323.
To connect with AHR on LinkedIn please visit their profile.