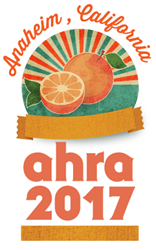 Sudbury, MA (PRWEB) March 04, 2017
AHRA: The Association for Medical Imaging Management is delighted to announce the keynote speakers for the AHRA 45th Annual Meeting and Exposition, a premier educational event for radiology administration in Anaheim, CA on July 9-12, 2017. Attendees can expect to be challenged and entertained by these three distinguished speakers, who also double as comic writers, illusionists, chief experience officers and authors.
Barry Blackmore - Opening Keynote Session, July 10, 9:00 to 11:00am
The Magic of Customer Service
Have you heard about the "Disney Approach to Quality Service" program? When Fortune 500 Companies send their top leaders to Disney World for this important training, guess who Disney asks to entertain and motivate them? CHRIS BLACKMORE! Other than Mickey Mouse, Chris is the only entertainer Disney trusted with these esteemed clients. Using his hilarious style of presentation and amazing magic, he explains the process of customer relations made famous by the most prestigious and successful business brands in the world.
Jake Poore - Middle Keynote Session, July 11, 9:45 to 11:00am
The Leader's Role in Building and Sustaining Exceptional Patient Experiences
Unlike typical trainers or keynote speakers, Jake Poore spends most of his time in the trenches of healthcare, working side by side clinical and non-clinical care team members on every step of the patient experience. You may find him shadowing a nurse on a medical-surgical floor, observing pre-op surgery, secret shopping the waiting room of a doctor's office or conducting patient focus groups. As Founder and President of ILS, Jake knows what it takes to create and maintain a world-class service organization.
Shari Harley - Closing Keynote Session, July 12, 3:15 to 5:15pm
How to Say Anything to Anyone: Setting Expectations for Powerful Working Relationships
Shari Harley, MA and Certified Speaking Professional (CSP) is the founder and president of Candid Culture an international training and consulting firm bringing candor back to the work place, creating a safe haven for employees, managers, and clients to speak honestly. Candid Culture helps corporations, associations, government agencies, schools, and not-for-profits get and keep the right customers and employees by creating better business relationships.
In addition to these keynote addresses, the conference will feature the Advanced Track, in which industry experts will provide strategies to help tackle the challenges of healthcare's rapidly changing landscape, and the Basic Track, designed to expedite the onboarding process for new managers or reboot the skills of existing leader. A one day CRA workshop will also be presented for imaging professionals who want to test their current knowledge base and/or prepare for taking the CRA exam. The meeting also features several action packed vendor symposiums, workshops for skill set development, and countless networking opportunities with peers and vendors.
Medical imaging leaders interested in attending the 2017 Annual Meeting can visit the event's website, http://www.ahra.org/annualmeeting or contact AHRA's Member Services at 978-443-7591. The early-bird registration rate is available through April 14, 2017, and includes $50.00 off full registration.
About AHRA: The Association for Medical Imaging Management
AHRA is the professional organization representing management at all levels of hospital imaging departments, freestanding imaging centers, and group practices. Founded in 1973, AHRA's 5000+ members reach across the country and around the world. AHRA offers a complete slate of professional development programs, including a comprehensive selection of educational conferences and seminars, networking opportunities, award winning publications, and the Certified Radiology Administrator (CRA) credential. More details about AHRA are available at http://www.ahra.org.