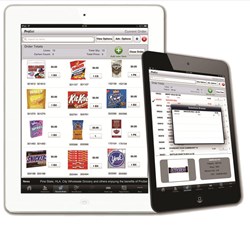 ProSel for iPad is helping salespeople in wholesale distribution get more done.
Chicago, Ill (PRWEB) January 09, 2014
Ai2, a developer of mobile solutions for the wholesale distribution industry, today announced that W.L. Petrey Wholesale will implement ProSel, a sales force automation and remote order entry app for iPad.
ProSel is designed for a mobile sales professional to handle orders, returns, customer purchase history, catalog browse, multimedia, and other tasks required by the wholesale distribution industry. One major distinction is ProSel's use of situation-specific data in the field. For example, ProSel delivers detailed sales reports and information on "order voids," or shortages, to salespeople who can immediately fill the gaps in a retailer's shelf.
"We are excited to help the C-Store industry in particular, and distributors in other industries, take technology to new heights," said Douglas Katich, CEO for Ai2. "ProSel is helping salespeople in wholesale distribution get more done."
Ai2, historically a Microsoft shop, altered its course slightly to focus on development of sales force automation solutions for iPad and has been developing for the iPad since it was first released in 2010.
ProSel is a scalable and flexible sales solution for mobile professionals in several different wholesale distribution verticals including convenience, food, jewelry, industrial paper, janitorial supply, wine and spirits. The benefits its users report include reduced printing costs, a sharp reduction in order entry errors and virtually zero IT maintenance.
The W.L. Petrey company was established in 1898 as a retail mercantile business. It has since grown to service a 500-mile radius from its headquarters in Montgomery, AL. Its primary line of goods distributed includes dry and frozen groceries, candy, health and beauty aids, deli items, tobacco products, novelty items, and beverages. For more, visit Petrey.com
Ai2 was founded in 1986 and is headquartered in downtown Chicago. Their applications are used by more than 100,000 users each day to capture upwards of $100 billion in annual sales. More than 10,000 retail stores and more than 1,000 movie theaters use Ai2 solutions for their order entry needs. Ai2 improves the sales process for some of the world's largest distributors in foodservice, convenience store, grocery, beverage, hardware, medical, beauty products, jewelry and more. For more information about Ai2, visit Ai2.com.