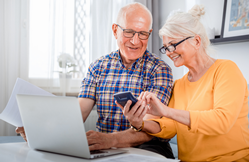 Medicare beneficiaries who want to make the best selection from a really complex array of alternatives ... are not only comfortable with technology that makes the process easier, but they also embrace it.
CLEARWATER, Fla. (PRWEB) January 25, 2021
As more Baby Boomers reach retirement age, the number of computer-savvy senior citizens has increased, and businesses—including insurance companies—have noticed it. Statistics show that in the 65 and up age group, 73% of seniors use the internet (from 50 to 64 years of age, it is 88%).(1) The idea of the befuddled senior citizen who cannot use a computer, smartphone or tablet is a thing of the past. Dave Rich, CEO of Ensurem, a Florida-based insurance technology and product distribution firm, says, "The bulk of my company's customers are Medicare beneficiaries who want to make the best selection from a really complex array of alternatives. They are not only comfortable with technology that makes the process easier, but they also embrace it."
According to published reports, the AI trend most identifiable for 2021 is hyperautomation or the concept that everything that can be automated should be automated.(2) The COVID-19 pandemic has created an accelerated adoption of hyperautomation—mostly amongst legacy business processes—and has given Artificial Intelligence and Machine Learning a growing role.(3) Current AI and ML programs, with their cognitive algorithms, have the ability to screen cases, evaluate them with great precision and make informed decisions. In fact, these systems can identify and correct errors.(4)
In response to this trend, Ensurem is introducing tools that automate the needs analysis and decision-making processes of Medicare insurance enrollment. The company's recently launched "cyber agent" tool, Agent E, elicits some basic information on the prospective customer's current coverage and then guides him or her through the various available Medicare insurance possibilities to a final selection and purchase.
These programs also have the option to hand the transaction over to an actual human insurance agent should the beneficiary request it. Ensurem is not the first nor the only company to offer online insurance shopping and enrollment, but their program, Agent E, Rich explains, "is on its way to being the first multi-product, multi-carrier cyber agent tool of its kind that allows those who are approaching, or are in retirement, compare their insurance options helping them enroll into the right coverage for their health and budget needs all online."
"Agent E is Ensurem's response to the consumer's call to allow them to 'Enroll Your Way,' where and when it's convenient for them. I've had people ask me whether by using self-service tools we're trying to save money on employees. In fact, over the past year we've doubled our in-house staff to nearly 250 team members. The purpose of Agent E is not to eliminate the human factor; it's to help the client make the best possible choice for his or her needs." says Rich.
After the beta launch of Agent E in October 2020, Ensurem experienced a sizeable increase in the percentage of online enrollment interest. Within the 7.5-week Annual Election Period following the beta launch, the company saw a 400% increase in direct-to-consumer, online-only (no agent assistance) enrollments. At the same time, it saw an 831% increase in total DTC enrollments including online enrollments assisted by an agent. These numbers are in comparison to the previous Annual Election Period in 2019. Although this portion of enrollments is a relatively small percentage of the company's total sales, it is indicative of increasing interest in using these types of tools.
Changes and new data about Medicare insurance options, notes Rich, are fed into Agent E on a continual basis, creating what he describes as a rich information flow. Medicare Advantage plans, the increasingly popular private plan alternative to traditional Medicare, are offered based on the beneficiary's county of residence. For 2021, the average beneficiary has access to 33 Medicare Advantage plans, the most that have been available in a decade.(5) Moreover, options have multiplied within the plans themselves; compared with 2020, for example, 64% more of these plans now offer at least one of five supplemental benefits, such as in-home support or caregiver support.(6)
"Making the right decision in all this," says Rich, "is really something of an undertaking, so we're using the best available technology to help people do it. Agent E may be the wave of the future" The insurance industry, he says, is still playing catch-up in this regard, and indeed in regard to ecommerce itself, noting that as of 2020, just over 20% of all insurance were being conducted online.(7)
About Ensurem:
Ensurem, headquartered in Clearwater, FL, is a leading technology and product distribution company serving carriers and consumers within the massive U.S. senior market. The company provides end-to-end solutions for carriers, including product development, digital marketing, and consumer-centric front ends and back end. For more information, please visit Ensurem.com.
1. Clement, J.; "U.S. Internet Usage Penetration 2019, by Age Group"; 23 NOV 2020; Statista; statista.com/statistics/266587/percentage-of-internet-users-by-age-groups-in-the-us/
2. Panetta, Kasey; "Gartner Top Strategic Technology Trends for 2021"; 19 OCT 2020; Gartner; gartner.com/smarterwithgartner/gartner-top-strategic-technology-trends-for-2021/
3. Whiting, Rick; "5 Emerging AI and Machine Learning Trends to Watch in 2021"; 23 OCT 2020; CRN; crn.com/news/cloud/5-emerging-ai-and-machine-learning-trends-to-watch-in-2021
4. McKinsey & Company; "Artificial Intelligence in Health Insurance"; SEPT 2017; healthcare.mckinsey.com/wp-content/uploads/2020/02/Artificial-intelligence-in-Health-Insurance.pdf.
5. Biniek, Jeannie Fuglesten. "Medicare Advantage 2021 Spotlight: First Look." KFF, 29 Oct. 2020, kff.org/medicare/issue-brief/medicare-advantage-2021-spotlight-first-look/.
6. King, Robert. "Analysis Finds 64% More Medicare Advantage Plans Offer Expanded Supplemental Benefits for 2021." FierceHealthcare, 18 Nov. 2020, fiercehealthcare.com/payer/analysis-finds-64-more-ma-plans-offer-expanded-supplemental-benefits-for-2021.
7. "Industry Market Research, Reports, and Statistics." IBISWorld, ibisworld.com/industry-statistics/market-size/online-insurance-brokers-united-states.