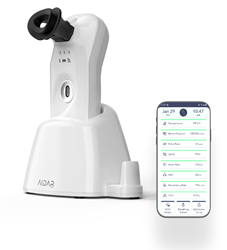 The CE Mark approval is a significant accomplishment for Aidar Health as this application required rigorous regulatory review against high clinical and safety standards.
BALTIMORE (PRWEB) February 16, 2021
Aidar Health, Inc., healthcare technology and digital medicine company, today announced it has received CE Mark approval for its revolutionary health assessment and remote monitoring device, MouthLab. By leveraging the capabilities of MouthLab, Aidar Health aims to create a new kind of personalized healthcare experience for people with chronic conditions and enable positive health outcomes.
Designed by biomedical industry experts in partnership with clinicians, MouthLab is a single, non-invasive, hand-held, remote monitoring device that measures 10+ vital health parameters including oral temperature, non-invasive blood pressure (NIBP), respiratory rate, respiratory flow cycle morphology (RFM), pulse rate, ECG, oxygen saturation (SpO2), heart rate, heart rate variability, and basic lung functions in 60 seconds. The device consists of in-built Bluetooth and cellular network capability to seamlessly transmit data to a secure HIPAA-compliant cloud, where the data is processed to provide real-time health insights to patients and caregivers through a mobile application.
"MouthLab is one of the first Star Trek-style Medical Tricorder with comprehensive real-time health monitoring capabilities to receive CE Mark approval. This approval is a great testament and a true validation of the technology and allows us to significantly expand the commercial applications of the device for decentralized and hybrid clinical trials, and digital therapeutic initiatives through our partnerships with global biopharmaceuticals and contract research organizations," says Sathya Elumalai, Founder and CEO of Aidar Health. 
"COVID-19 has not only accelerated the adoption of remote patient monitoring technologies but has also brought a near-permanent positive change in user behavior and attitudes towards such telehealth technologies. MouthLab would be like a 'Check Engine' light for people to monitor their daily health status", says Dr. Gene Fridman, Co-founder, and CTO of Aidar Health.
The current ability of MouthLab to measure all these approved vital health parameters are only the beginning. Because the device is placed in the mouth for data collection, it also has access to breath and saliva, which in turn provides access to many other biochemical and biophysical indicators of health. "We are actively working on building new breath- and saliva-based sensors to make MouthLab as one of the most comprehensive tools for early detection and improved management of chronic health conditions", says Dilawer Singh, Director of Engineering at Aidar Health.
"We believe the MouthLab device and our enterprise platform are more relevant than ever to serve the needs of pharmaceutical companies, healthcare providers, health plans, and more importantly, patients and their caregivers. We are excited to have received this certification as it now enables Aidar's entry into the European market. We look forward to working with our biopharmaceutical and health system partners in the region" adds Sathya Elumalai.
Aidar Health is pioneering the design and application of the MouthLab device as a platform that can be continuously enhanced through the addition of multiple capabilities by leveraging reliable medical-grade sensors, thereby broadening the pertinence of the device in diverse settings across the healthcare value chain.
About Aidar Health
Aidar Health (fka Multisensor Diagnostics) is a fast-growing healthcare technology and digital medicine company with the mission to enhance the quality of life of patients with chronic conditions. Aidar Health aims to design, develop, and deliver clinically-validated breath- and saliva-based sensors and evidence-based therapeutic interventions for various chronic conditions, including heart failure, Chronic obstructive pulmonary disease (COPD), infectious disease (i.e., COVID-19), and chronic kidney disease among many others. Aidar Health seeks to provide improved health outcomes for users through precision medicine, smarter engagement and tracking tools for providers and caregivers, drug and treatment validation tools for biopharmaceuticals, and cost-effective solutions for payers. Aidar has built a revolutionary medical device, MouthLab, and a cloud-based enterprise platform, which leverages proprietary AI and machine learning algorithms, to create a new paradigm for precision medicine.
For more information, visit: http://www.aidar.com