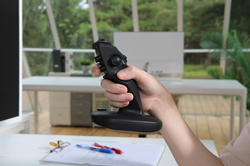 When asked why they backed the product, some backers commented, "I've wanted a joystick for games for a long time, but haven't seen any that looked interesting enough" or "I am a 3D designer and I think your device will be great for use with CAD."
SEOUL, South Korea (PRWEB) October 05, 2021
Nextick is a joystick-type mouse that was specifically designed for gamers to feel more immersed during their games. On September 13, 2021, the Aidus team launched Nextick on Kickstarter and generated large popularity in the crowdfunding community. It reached its funding goal in just 3 days.
When using Nextick for gaming, it has several strengths. It is wireless and designed to have a substantial grip, which allows users to use full range of motion while holding onto Nextick. The vibration capability also brings more life to the games as they press a command like shoot.
At the same time, Nextick offers all the functionalities of a regular mouse such as scroll, drag, double-click, and more. This gives users more flexibility to utilize Nextick in more regular day-to-day settings such as during presentations or while scrolling through the web. Its macro keyboard shortcuts gives users the ability to save presets of words or phrases that are often used. For example, one could save an ID and password on these macro keys so that users can log-in with a click of a button.
The Kickstarter community also recognized the versatile potential in a mouse like Nextick. When asked why they backed the product, some backers commented, "I've wanted a joystick for games for a long time, but haven't seen any that looked interesting enough" or "I am a 3D designer and I think your device will be great for use with CAD." Many gamers expressed praise as well – "this joystick/mouse looks legitimately interesting for myself as a gamer and consistent user of my computers."
Nextick's Kickstarter campaign has been live since September 13 and will continue for 30 days until October 13, 2021. During this period of time, Nextick is offered at a price as low as $109, which is 27% off retail.
About Aidus
Aidus is a Korean start-up specializing in game development and game controllers. The team was formed in 2017 by Byung Chan Lee with the vision to be ahead of the game of conventional wireless controllers. After 7 iterations of building different prototypes, the finalized Nextick came to life and made its debut on Kickstarter. To learn more about Aidus and Nextick, visit the Kickstarter page here.