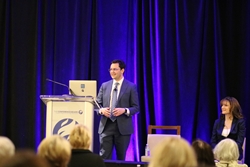 I don't think there's been a time in history where working together in a team has been so important. - Dr. Jonathan Kirschner, CEO of AIIR Consulting
NEW YORK (PRWEB) March 30, 2019
Presenting to a crowd of Fortune 500 talent management leaders, AIIR Consulting CEO, Dr. Jonathan Kirschner, announced that certification sessions for the AIIR Team Effectiveness Survey™, now available as a standalone team coaching solution, will begin on April 25th. The announcement follows an industry trend of rapidly increasing requests for systemic and scalable team coaching solutions.
The 16th Annual Conference Board Executive Coaching Conference, held at the Westin Times Square, kicked off with a pre-conference event centered around the theme of team effectiveness as the next frontier of enterprise coaching strategies. The event drew nearly double the number of attendees seen in previous years and included global talent professionals from both the public and private sectors.
"We are seeing rapid growth in demand for team coaching solutions," said Kirschner. "As complexity and business velocity continue to increase, teamwork is critical to performance. Leaders are reaching out because they know that team coaching can help teams achieve sustained high performance and drive business results."
This demand was a driving factor in making the AIIR Team Effectiveness Survey available to an audience that is desperate for scalable solutions that affect systemic change. AIIR developed its team effectiveness survey after working with thousands of leaders and it has been used successfully to coach teams across the globe.
"We began investing more heavily in our team research in 2015 when demand started to grow," said Kirschner. "The result is a simple, powerful tool that is designed for the needs of today's heavily matrixed, cross-disciplinary, and geographically dispersed teams."
The AIIR Team Effectiveness model is a brief, 36-item assessment that measures the performance of teams across two axes: Team Culture and Team Productivity. Those areas are broken into six dimensions that measure the success of a team at a given point in time.
"The assessment is more robust than a pulse check and more concrete and pragmatic than a personality assessment," said AIIR Senior Consultant Dr. David Yudis. "The result is a clear measure of team health with specific strengths and weaknesses identified."
Kirschner announced certification dates on March 25th, and gifted pre-conference attendees with early access to the sessions, the first of which sold out the day of the announcement, indicating that additional dates are likely to sell out quickly. AIIR has already opened up a waiting list for those who were unable to get into the first session.
Priced at $900 per person, the certification includes 24/7 access to the assessment portal and an out-of-the-box kit that comes with everything needed to debrief a team and help team members create a team charter to improve performance. Assessments are priced at $375 per team.
"Many teams find benefit in taking the assessment frequently," said Yudis. "That way, they can see the impact of their efforts and the way that factors like personnel and organizational changes affect the performance of the team."
AIIR, which also specializes in Executive Coaching, Leadership Development, and building a coaching culture, has declared 2019 to be The Year of the Team.
"I don't think there's been a time in history where working together in a team has been so important," said Kirschner. "We feel a responsibility to give teams the tools they need to understand where they are on their journey to achieving high performance."
To learn more about the AIIR Team Effectiveness Survey, including how to get certified, visit https://www.aiirteamsurvey.com/.