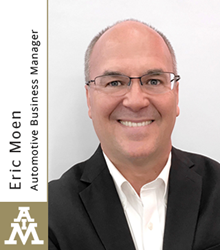 CRANSTON, R.I. (PRWEB) June 20, 2019
AIM Solder, a leading global manufacturer of solder assembly materials for the electronics industry, is pleased to announce the appointment of Eric Moen to the position of Automotive Business Manager.
With more than 20 years of business management experience in the electronics assembly industry, Eric Moen will bring focus and develop our efforts in the critical automotive electronics marketplace. Moen will be managing AIM's business at large multi-site automotive electronics producers on a global level and will work closely with the sales, marketing, technical support, and other departments in this new role to ensure our ability to deliver our products effectively in accordance with the ever-changing automotive market. This is another important step in the company's commitment to the standards of the automotive industry and ensuring that AIM is delivering quality materials and services to all of our customers world-wide, while staying in tune with the improvements and innovations of today's automotive electronics manufacturing.
"This is a very important and exciting role for both Eric and AIM," said Andy Dolan, AIM's Vice President of Business Development. "By focusing on this highly complex and growing marketplace Eric will bring knowledge regarding the direction and requirements of the automotive industry to all of our efforts both short and long term."
About AIM
Headquartered in Montreal, Canada, AIM Solder is a leading global manufacturer of assembly materials for the electronics industry with manufacturing, distribution and support facilities located throughout the world. AIM produces advanced solder products such as solder paste, liquid flux, cored wire, bar solder, epoxies, lead-free and halogen-free solder products, and specialty alloys such as indium and gold for a broad range of industries. A recipient of many prestigious SMT industry awards, AIM is strongly committed to innovative research and development of product and process improvement as well as providing customers with superior technical support, service and training. For more information about AIM's complete line of advanced solder products and global technical services, please visit http://www.aimsolder.com.
Upcoming Events:
June 27, 2019 – SMTA Upper Midwest, DoubleTree by Hilton Minneapolis, Park Place, Minneapolis, MN
July 11, 2019 – SMTA Queretaro, Hotel Mision Jurquilla, Queretaro, Mexico
July 23-26, 2019 – FIEE – São Paulo Expo, São Paulo, Brazil