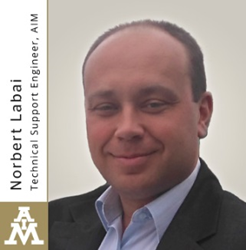 (PRWEB) September 27, 2018
AIM Solder, a leading global manufacturer of solder assembly materials for the electronics industry, is pleased to announce the addition of Norbert Labai as Technical Support Engineer.
Labai has been in the electronics industry for over 20 years and will support AIM customers throughout Eastern Europe. AIM Solder's Technical Support is highly skilled in supporting customers to solve the most challenging technical issues and to adopt the latest application technologies.
"We are excited for Norbert to join the AIM team," said AIM's Technical Support Director, Carlos Tafoya. "His industry experience and skill set will allow us to offer a fresh outlook of support. Already set apart by our field assistance, we know this is a very important and exciting new hire for the company, as we continue to expand our global footprint and continue to offer the best support on the market."
About AIM
Headquartered in Montreal, Canada, AIM Solder is a leading global manufacturer of assembly materials for the electronics industry with manufacturing, distribution and support facilities located throughout the world. AIM produces advanced solder products such as solder paste, liquid flux, cored wire, bar solder, epoxies, lead-free and halogen-free solder products, and specialty alloys such as indium and gold for a broad range of industries. A recipient of many prestigious SMT industry awards, AIM is strongly committed to innovative research and development of product and process improvement as well as providing customers with superior technical support, service and training. For more information about AIM, visit http://www.aimsolder.com.
Upcoming Events:
October 16-17, 2018 – SMTA International – Rosemont, IL