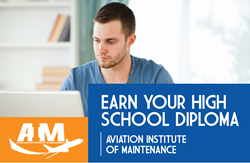 It is our hope that the program will not only support our students but also the communities surrounding our campuses by providing residents with a pathway to earn a diploma and pursue higher education, in the form of aviation maintenance career training
Virginia Beach, VA (PRWEB) August 17, 2016
The Aviation Institute of Maintenance (AIM) announced today the availability of a new high school completion program at all of its campuses through its partner, Penn Foster, one of the oldest and largest high schools in the United States. This new program is designed for students, ranging from traditional high school age to adults, who are interested in pursuing higher education and career training but lack the proper credentials, including proof of high school graduation.
"We are excited to partner with Penn Foster to introduce a program of this caliber," said Dr. Joel A. English, Vice President of Operations of AIM. "It is our hope that the program will not only support our students but also the communities surrounding our campuses by providing residents with a pathway to earn a diploma and pursue higher education, in the form of aviation maintenance career training."
Students accepted into AIM's high school completion program can earn a regionally accredited high school diploma at their own pace, through a combination of online instruction and individualized, face-to-face academic support offered at any one of AIM's 11 campuses across the United States, at no cost to them. Transfer credits may be awarded towards this 21-credit curriculum for students who have completed some level of high school and/or GED. Upon receiving their diploma, students will have the opportunity to apply for enrollment into AIM's Aviation Maintenance Technician program and train to earn their FAA certifications.
For more information, please visit http://www.AviationMaintenance.edu.
About Aviation Institute of Maintenance
Aviation Institute of Maintenance is the United States' largest family of aviation maintenance schools, with headquarters in Virginia Beach, Va. Students learn the skills necessary to become successful in one of the world's fastest growing industries, aviation maintenance and the free Human Factors course and certification are examples of the school's passion and commitment to the aviation industry. AIM graduates are trained to meet the increasing global demands of commercial, cargo, corporate and private aviation employers. AIM's campuses are located in the following major metro areas: Atlanta, Philadelphia, Dallas, Houston, Indianapolis, Las Vegas, Washington, D.C., Kansas City, Mo., Oakland, Calif., Orlando, Fla., and Norfolk, Va. Learn more at: http://www.AviationMaintenance.edu.
About Penn Foster
Founded in 1890, Penn Foster has been a leader in career-focused distance and hybrid learning for 125 years through its high school, career school and college. Through direct enrollment by students as well as partnerships with schools and businesses, more than 13 million people have taken Penn Foster-enabled courses to further their education and better position them for life success. Today, Penn Foster enrolls more than 100,000 new students each year in programs designed to address the gap in middle skilled careers. Penn Foster combines affordable career-oriented education with a flexible delivery model ranging from pure play online to onsite hybrid learning solutions. Penn Foster high school is licensed by the Pennsylvania State Board of Private Licensed Schools, and regionally accredited by the Commission on Secondary Schools of the Middle States Association (CSS-MSA) and the Distance Education Accrediting Commission (DEAC). For more information, visit http://www.pennfoster.edu.