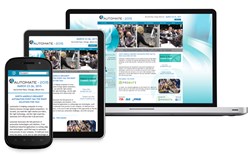 Users expect their experience to be fluid whether they are on their iPhone, tablet, or desktop.
Lake Success, NY (PRWEB) November 27, 2013
Web development and inbound marketing firm AIMG recently launched the new dynamic website application solution it developed for the future Automate 2015 trade show event in Chicago. With such a vast array of web content to manage on an on-going basis, the show's directors were looking for a web solution that gave them more control on the backend and a better end-user experience on the frontend.
"Web development has changed dramatically now that everyone is using a variety of mobile as well as desktop devices to access websites," said Joe DeMicco, Founder & CEO of AIMG. "Users expect their experience to be fluid whether they are on their iPhone, tablet, or desktop. Given the variety of computing devices in use with vastly different screen sizes, our challenge was to develop a custom solution that gave the client the kind of administrative control they were after without sacrificing the integrity of their original design or the end user experience."
Utilizing the flexibility of responsive web design, AIMG developed an intelligent custom content management solution that gives the client the kind of granular control over content they desire while ensuring it displays properly on the public side regardless of the device's screen size. "The application has a pretty robust set of custom tools," said DeMicco. "Keeping an eye on how things have to look and function on the public side, we customized the solution around what the client needs to do and wants ultimately to achieve. Even the tools are designed to make the administrator's task of managing content easy and painless."
One of the key features of the custom application is the dynamic floor plan. With the Automate show occurring in 2015, the clients are working now to attract exhibitors as well as get attendees excited about who will be there. AIMG developed the dynamic floor plan to assist with these tasks. The tool gives the client editorial control in real-time to associate exhibitor information with each exhibitor booth in the floor plan. Working to motivate potential exhibitors and attendees to register for the event, the tool provides site visitors with a quick overview of which companies have confirmed, who they are, where their booth is located in the exhibition hall, and which booths are still available.
To view the Automate 2015 responsive website design solution, visit http://www.automateshow.com.
About AIMG
Established in 1994 as Accurate Imaging, Inc., AIMG is now a global Marketing, Web Development, Search Engine Optimization (SEO) and Small Business Development agency with offices in Clifton, New Jersey, Lake Success, New York, and Charlotte, North Carolina. Offering services in website design, custom web application development and integration, digital intelligence, copywriting, search engine and conversion optimization, as well as consulting for marketing and business development, AIMG's strategic business divisions include Enterprise Business Solutions, Small Business Solutions, Industrial Sector, and NOA (for Non-profits, Organizations and Associations). Visit http://www.aimg.com or call 1-704-321-1234. Watch AIMG's recently released Small Business Solutions video here or at the company's AIMGcom YouTube channel http://www.youtube.com/watch?v=x-OxNbZZbhQ.
About Joe DeMicco
Joe DeMicco is the founder and CEO of AIMG. He has been a web and marketing consultant for almost 20 years. He started his flagship company Accurate Imaging in 1994, which he re-branded as AIMG in 2009. Since then he has worked as a consultant and produced solutions for companies like BMW, Discovery Communications, Publicis, Thomas Register (ThomasNet), Net2Phone, Robotic Industries Association, Automated Imaging Association, E-Z-EM (now Bracco Imaging), and Excite Media Group. In 2007 he established Industrial Web Solutions, which specializes in online and offline solutions for industrial manufacturers. An alumnus of the Goldman Sachs 10,000 Small Businesses program, Joe continues to present online marketing webinars to past and current participants of the program. Joe is a recognized small business specialist and offers business development tips on his blog http://www.DeMicco.com.
Client Testimonials
"Joe DeMicco and his team at AIMG are the best you will find in the field. Highly knowledgeable and extremely creative, they were not only able to understand my needs, my brand, and my goals, but create options I hadn't even considered to maximize my web marketing strategy. As a small business owner, I felt I had a whole IT department all of a sudden and customer service is amazing. You are assigned your own client relations representative that readily answered questions and helped navigate the process. I would highly recommend AIMG for any online needs you may have. They go above and beyond and the experience has been fantastic."
Ayala Donchkin, Exec. Chef & Owner - Evelyns-Kitchen.com
"If you're serious about making changes that will grow your business, getting quality exposure on the internet, and are looking to work with an experienced professional in the industry, then Joseph DeMicco is the man. I learned so much more in two 45 minute consultations with him than I ever expected – even before formally hiring him. I strongly recommend his services."
Jimmy Moyen, President – FirstChoiceMechanical.com
"With the search engine optimized website developed by AIMG I achieved page one rankings in Google for my top sellers, beating out my competitors, and magnifying sales with over 62% increase in revenue."
Rusty Ponce de Leon, President – Phase1Tech.com
"Joe owns his industry. I could tell from our first conversation that he knew what he was talking about and what he could produce. He understood our business before he walked in so we didn't have to do a lot of explaining. He loves what he does and he is able to communicate the excitement of the possibilities for us."
Janet Caldwell, Vice President – TheForkliftPro.com