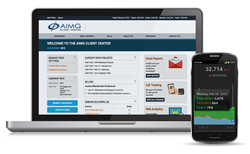 The Client Center was developed to give clients 24/7 access...not only ensure them the information and control they desire but also give insight into how well we are doing to bring them closer to their business goals.
Lake Success, New York (PRWEB) February 28, 2015
Web development and inbound marketing firm AIMG (http://www.aimg.com) has launched its new Client Center. Developed to provide retained inbound marketing clients with the transparency desired to track and evaluate online initiatives and assets, AIMG's new Client Center goes beyond to deliver a suite of marketing tools that can be used to develop buyer personas, enrich content, and optimize audience engagement.
"Clients who work with us to grow their businesses, whether they are large, multinationals or a local small business, want to see and understand their return on marketing investment," said Joe DeMicco, Founder & President of AIMG. "We respect the fact that they don't want to think they are just tossing coins into a fountain and wishing for great results. The Client Center was developed to give them 24/7 access to up-to-date results and marketing tools that not only ensure them the information and control they desire but also give insight into how well we are doing to bring them closer to their business goals. We don't shy away from such transparency because the multilateral initiatives we develop, implement and manage are based on a profound knowledge of our clients' businesses. Each custom tailored marketing plan is developed to achieve the specific business growth goals of our client. The Client Center is helpful in keeping us all informed and working from the same page. It facilitates in-depth discussions and timely adjustments to ensure campaigns and initiatives are working optimally toward the specified goal."
Each success dashboard within the AIMG Client Center features easy access to such tools as Email Reports, Call Tracking, Web Analytics, Domain Management tools, Billing and Invoicing tools, and Current Projects. Additionally, clients also have access to a Buyer Persona development tool that systematically guides them through the process of identifying and developing their ideal target buyer(s). The Client Center allows them to develop, archive and edit their Buyer Personas within their success dashboard, with no set limit to the number they can create and archive.
"We are committed to strengthening our relationship with clients in ways that are meaningful to their bottomline," expressed DeMicco. "The Client Center will continue to evolve to remain current and relevant. We designed it to be the client's convenient, easy-to-use, one-stop place to go at any time 24/7 to get up-to-date insight into the great job AIMG is doing to grow their business."
About AIMG
Established in 1994, AIMG is a HubSpot certified inbound marketing and web development firm that works with companies of all sizes as a marketing and business development partner. Over the past two decades, AIMG's diverse team of in-house specialists have worked on thousands of successful web development, branding, sales/lead generation, and new market penetration projects, becoming a trusted partner to small business, medical, industrial B2B, non-profit, and corporate enterprises. With extensive experience working with marketing managers and business owners from start-ups to Fortune 500s, AIMG is valued for its deep knowledge of the digital landscape and custom strategies based on clients' unique needs and goals. Watch AIMG's Small Business Solutions video to learn more about how AIMG brings Business to business. Visit http://www.aimg.com or call toll free 1-888-291-0037 to learn more.
About Joe DeMicco
Joe DeMicco (http://www.linkedin.com/in/joedemicco) is a digital marketing and strategic growth specialist with more than 20 years of experience successfully helping B2B and B2C clients across industries grow their businesses. He is Founder and CEO of AIMG (formerly Accurate Imaging, Inc.), an integrated marketing and web development firm he started in 1992. A recognized small business authority and an alumnus of the "Goldman Sachs 10,000 Small Businesses" program, Joe is now a frequent panelist and presenter to current cohorts. He has contributed to the Huffington Post, been quoted by Newsday, and been featured on Small Business Administration Radio. Joe has also been invited to speak on a wide variety of marketing and small business development topics at a number of professional organizations including St. John's University and La Guardia Community College. In addition to this, Joe offers business development Tips on his blog http://www.demicco.com.