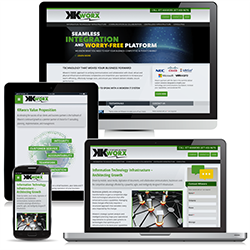 Throughout our entire experience with Joe and his team, they always kept us on a strategic path that ended up with results beyond our expectations.
Lake Success, New York (PRWEB) July 31, 2015
Integrated marketing and web development firm AIMG (http://www.aimg.com) recently launched the website it developed for global communications and IT solutions firm KKworx. The client was looking for a re-design solution that aligned with their brand messaging and business development objectives. Challenged with trying to take the business to the next level while meeting daily business demands, KKworx turned to AIMG because of the company's unique approach and proven track record.
"We have a strategic approach to website design and content development that helps clients clearly and accurately relate their core message to their target audiences," said Joe DeMicco, founder & CEO of AIMG. "The goal is to first identify who the different buyer personas are and then develop an impactful design that not only showcases the brand but that logically delivers targeted messaging and a streamlined user experience."
AIMG's buyer persona-centric approach to website design is about engaging personas – targeted, ideal buyers - with the right information at the right time and then moving them through an easy-to-follow narrative. The experience leads the personas to take the desired action, like place a call or submit a form. In order to accurately measure success, AIMG integrates web analytics that allow for goal-focused benchmarks to be set, tracked, and reported through each conversion event.
AIMG worked closely with the client to develop unique, buyer persona-centric copy and content. More than pleased with the results, KKworx partners Laura Kiep and Mark Kiwiet had this to say about their experience working with AIMG:
"Joe, Patricia and the rest of the AIMG team were such a godsend. When we decided to redo our website, we had no idea where to begin. We needed fresh ideas that highlighted our core competencies with rock-solid content that delivered the message that our company is a key differentiator in our industry. Joe has a very methodical approach to designing web pages that starts with getting to know your business and how you identify with your industry. Throughout our entire experience with Joe and his team, they always kept us on a strategic path that ended up with results beyond our expectations. We are confident that our new website, coupled with continuing to work with the AIMG team, will help bring our business and our reputation to a new level."
To view the KKworx website and to learn more about the company, visit http://www.kkworx.com.
About AIMG
Established in 1994, AIMG is a HubSpot certified integrated marketing and web development firm that works with companies of all sizes as a marketing and business development partner. Over the past two decades, AIMG's diverse team of in-house specialists has worked on thousands of successful web development, branding, sales/lead generation, and new market penetration projects, becoming a trusted partner to small business, medical, industrial B2B, non-profit, and corporate enterprises. With extensive experience working with marketing managers and business owners from start-ups to Fortune 500s, AIMG is valued for its deep knowledge of the digital landscape and custom strategies based on clients' unique needs and goals. Watch AIMG's Small Business Solutions video to learn more about how AIMG brings business to Business. Visit http://www.aimg.com or call toll free 1-888-291-0037 to learn more.
About Joe DeMicco
Joe DeMicco (http://www.linkedin.com/in/joedemicco) is a digital marketing and strategic growth specialist with more than 20 years of experience successfully helping B2B and B2C clients across industries grow their businesses. He is Founder and CEO of AIMG (formerly Accurate Imaging, Inc.), an integrated marketing and web development firm he started in 1992. A recognized small business authority and an alumnus of the "Goldman Sachs 10,000 Small Businesses" program, Joe is now a frequent panelist and presenter to current cohorts. He has contributed to the Huffington Post, been quoted by Newsday, and been featured on Small Business Administration Radio. Joe has also been invited to speak on a wide variety of marketing and small business development topics at a number of professional organizations including St. John's University and La Guardia Community College. In addition to this, Joe offers business development Tips on his blog http://www.demicco.com.