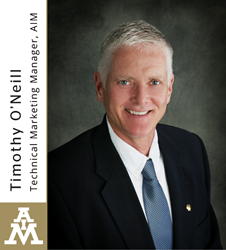 CRANSTON, USA (PRWEB) October 03, 2018
AIM Solder, a leading global manufacturer of solder assembly materials for the electronics industry, is pleased to announce that Timothy O'Neill, Technical Marketing Manager, will present the white paper "Determining the Effect of Fine Mesh Solder Powder on Flux Residue Removal" at SMTA International 2018, scheduled to take place on October 16-17, 2018 at the Donald Stephens Convention Center in Rosemont, Illinois.
The need to miniaturize solder paste deposits continues to drive the electronics manufacturing industry. Conducted in collaboration with Zestron and Foresite, this study explores the effects of fine mesh solder powder on flux residue removal. Mr. O'Neill will present the implications of incorporating smaller solder particles in the solder paste and will discuss soldering performance with finer powder.
Additionally, Mr. O'Neill will serve as co-chair in the Manufacturing Excellence – MFX3 session on Wednesday, October 17th from 8:00 – 9:30 AM.
AIM will also highlight its full line of advanced solder materials, including its high reliability alloys, solder paste, liquid flux and solder alloys. To discover all of AIM's products and services, visit the company at booth number 408 or on their website http://www.aimsolder.com.
About Timothy O'Neill
Timothy O'Neill is the Technical Marketing Manager for AIM Solder. With nearly 25 years of experience in electronics soldering, Mr. O'Neill has co-authored several papers on PCB assembly subjects. He is a Certified IPC Specialist, a technical writer and presenter for industry trade publications and events. His commitment and dedication to sharing innovative solutions to challenging problems in the electronics assembly market have earned him recognition from the SMTA as Speaker of Distinction.
About AIM
Headquartered in Montreal, Canada, AIM Solder is a leading global manufacturer of assembly materials for the electronics industry with manufacturing, distribution and support facilities located throughout the world. AIM produces advanced solder products such as solder paste, liquid flux, cored wire, bar solder, epoxies, lead-free and halogen-free solder products, and specialty alloys such as indium and gold for a broad range of industries. A recipient of many prestigious SMT industry awards, AIM is strongly committed to innovative research and development of product and process improvement as well as providing customers with superior technical support, service and training. For more information about AIM, visit http://www.aimsolder.com.