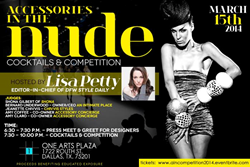 "I try to stay focused on the marketability of the product, value, target demographic and the need or saturation of a certain product and deliver guidance and direction based on those criteria." - Jeanette Chivvis, Fashion Stylist and AIN Judge
Dallas, Texas (PRWEB) March 06, 2014
If you are not wearing the right accessory you might as well be nude is the motto for AIN: Accessories in the Nude one of the most innovative fashion events in Texas. Hosted by DFW Style Daily editor Lisa Petty and sponsored in part by Klutch Handbags, LLC this year's contestants Brooke Reynolds, Emme Designs, Megan Brigham, Kanupriya Pande Designs, Terri Datcher, Noella Kalambay Designs, Ashlee Long, Jacque Martin of Jacque M, Thais Mills of Enticing Objects Home Décor and Thais Flowers can be meet March 15, 2014 at One Arts Plaza at 6:30 p.m.
Accessories in the Nude also known simply as AIN is a three part series composed of a Business Seminar, Accessory Designer Competition and Fashion Showcase. The business seminar educates designers on how to develop their products and business for success in the ever-evolving fashion landscape. The Accessory Designer Competition provides contestants the opportunity to showcase and receive constructive criticism for their designs in front of noted fashion professionals. The winner of the design competition is announced at the Fashion Showcase that also spotlights the latest apparel from new, established and celebrity designers. Accessory design competition Judge Jeanette Chivvis mentions "I try to stay focused on the marketability of the product, value, target demographic and the need or saturation of a certain product and deliver guidance and direction based on those criteria." The contest provides an exciting opportunity for contestants to create and increase visibility for their product line. Other Judges for this year's competition include jewelry designer Shona Gilbert, top interior designer Bernard Underwood and Accessory Concierge co-owners Amy Coffee and Amy Claro.
As a youth and education advocate AIN Founder Meko Krout-King mentions "…we need to find ways to introduce our children and youth to culture, education and international travels. That is why this year AIN has decided to support Educated Exposure." Tickets to the competition can be purchased on line at http://www.aincompetition2014.eventbrite.com
Accessories In The Nude Cocktails & Competition is Saturday, March 15, 2014
One Arts Plaza
1722 Routh Street Dallas, Texas 75201
Press Meet and Greet Reception 6:30-7:30 p.m.
Event Starts at 7:30 p.m.
About Educated Exposure
The foundation develops youth into innovative global thinkers by bridging the gap between education and exposure to various cultures via travel, food, history, art, music, language, international business/economics and ecological/humanitarian efforts. The program is designed to help youth develop the skills they need to become change agents in their communities who are collegiately prepared, economically self-sufficient and responsible global citizens. To learn more about various programs and ways to get involved visit http://www.educatedexposure.org/about-us.html
About Founder Meko Krout King
Meko Krout-King is a style and fashion educator who has spent the past 8 years working with clients to define and develop their approach to personal style. Meko has cultivated a simple, effective, timeless approach that transcends all shapes, sizes and lifestyles that brings dramatic results. Her love for Accessories lead her to develop an online accessory boutique, Flair for Fashion with best friend Angel Burrell. While Angel is no longer with the company Meko has further developed Flair for Fashion's services to also include fashion styling, image consulting, fashion coordinating, fashion show production, personal shopping, wardrobe development and closet organization. Meko is also involved with the following organizations: Dallas NAACP, Dallas NAACP Youth Council, DFII, South Western Bell, Ccasi' Inc, Trinity Model Management, D210TV and Girlfriends Inc, to name a few. With her unique gifts and passion for fashion Meko is truly greatful for the the opportunity to share her gifts and talents with others. It is through a variety of services that she intends to make a huge impact on the fashion world.
Connect and learn more about AIN at http://www.accessoriesinthenude.com For sponsorship information, press passes, private interviews and more information concerning AIN's outstanding founder Meko Krout-King please contact Rachael Yvonne Davis at info(at)UnitedEntInc(dot)com.