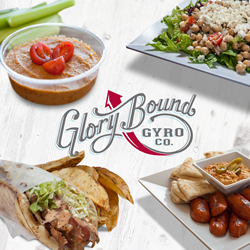 We couldn't be more excited about bringing the Glory Bound concept to the Northshore
Covington, LA (PRWEB) July 06, 2015
Ain't Life Grand Investments, parent company of Mugshots Grill and Bar, Glory Bound Gyro Co., and Topher's Rock 'N Roll Grill, announces the newest Glory Bound Gyro Co. location opening July 21st in Covington, LA. This opening will mark Glory Bound's third location. The weekend of July 17-19, Glory Bound will host their "Eat Good, Give Back" fund-raising event. Proceeds from this three day event will be donated to the Child Advocacy Center: Hope House, Mary Bird Perkins Cancer Center, Reagan's Peanut Butter Project, and Team Buna with four check presentations Tuesday morning before the company opens its doors to the public at 11:00am. Invites for this event will be distributed throughout the Northshore community as well as posted on all of Glory Bound's social media outlets. All media and public are invited to the check presentation Tuesday, July 21st, at 10:30am. Glory Bound, a new age American concept with mediterranean influences, offers a number of craft hummus flavors, fresh chopped salads, and unique gyros.
"Through the years, Glory Bound has developed into a great concept that we are extremely proud of," said Co-Founder, Will Taylor. "Our product is unique, and I think that's what draws people to Glory Bound." Taylor also stated.
"We couldn't be more excited about bringing the Glory Bound concept to the Northshore." said Co-Founder and Covington native, Chris McDonald. "Personally it's always been a dream of mine to bring all three of our Ain't Life Grand restaurant concepts to this area and continue our tradition of giving back to our local communities, which this time happens to be my hometown," McDonald said in closing.
The Glory Bound Gyro Co- Covington location will seat approximately 110 guests with both inside and outside dining.
"The interior decor includes locally sourced reclaimed wood, white washed brick, and concrete bartop." said Director of Grand Properties, Jason Warshauer. "McMath Construction and Piazza Architecture Planning did a great job creating a unique environment which I think complements the Glory Bound brand."
About Glory Bound Gyro Company
The Glory Bound Gyro Co. concept opened their first location in Hattiesburg, MS in 2009. Currently, the Glory Bound has two locations in two states. Glory Bound will also be opening its fourth location in Birmingham, AL in early August of 2015. For more information visit http://www.gloryboundgyroco.com