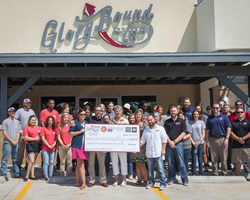 I believe this store will be a staple on the Northshore.
Covington, LA (PRWEB) July 21, 2015
Unique food, "Eat Gyros Be Happy", and Giving Back is what Glory Bound Gyro Co. is all about. Located at 500 River Highlands Blvd, the newest addition to the Glory Bound brand in Louisiana opened its doors for business on Tuesday, July 21st.
After hosting their "Eat Good, Give Back" soft opening fund raising event the weekend before, Glory Bound Gyro Co. and their nonprofit, Making Life Grand, were able to raise funds and awareness for the Children's Advocacy Center: Hope House, Mary Bird Perkins Cancer Center at STPH, Team Buna, and Reagan's Peanut Butter Project. "The opening in Covington has been a great experience," said Sam McAlister, Marketing Director for Glory Bound. "We've had positive feedback from every customer. It's been great to see everyone's reactions to the new menu items and environment." Tuesday morning during the opening day ribbon cutting ceremony Glory Bound founders and staff presented a check to four local charities in the amount of $8,290.60.
Founder Chris McDonald stated, "It's our mission to give back, and being from Covington it's truly an honor to bring our restaurant concepts, our executive team, and relocate our headquarters to my hometown. It's like a dream come true."
"I think the future is bright," said founder Will Taylor. "I believe this store will be a staple on the Northshore. This is the first Glory Bound in Louisiana and I think our customers will love our unique concept from the menu to the details in the building design." The Covington opening marks the third location of the Glory Bound brand with 1 more location slated to open this year.
About Glory Bound Gyro Company
The Glory Bound Gyro Co. concept opened their first location in Hattiesburg, MS in 2009. Currently, Glory Bound has three locations in three states. Glory Bound will be opening its fourth location in Birmingham, AL in early August of 2015. For more information visit http://www.gloryboundgyroco.com