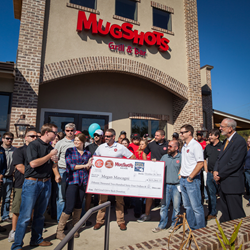 This entire weekend and opportunity has been a blessing.
Ridgeland, MS (PRWEB) October 20, 2015
Good food, "Havin' A Good Time", and Giving Back is at the core of Mugshots Grill & Bar's culture. Located on Lake Harbour Drive, just minutes from the reservoir, the 7th location of the Mugshots brand in Mississippi opened its doors for business on Tuesday, October 20.
After hosting their "Eat Good, Give Back" soft opening fund raising event the weekend before, Mugshots Grill & Bar and their nonprofit, Making Life Grand, were able to raise funds and awareness for Megan Mascagni and her fight against cancer. "Our Ridgeland opening was very moving," said Sam McAlister, Marketing Director for Ain't Life Grand Investments. "The support from the community was overwhelming, and being able to give back to a long time supporter of Mugshots made this weekend's event even more special." Tuesday morning during the opening day ribbon cutting ceremony Mugshots founders and their local franchisee presented a check to Megan Mascagni in the amount of $15,265.13.
"This entire weekend and opportunity has been a blessing." said owner Clint Walker "I have been a part of the Mugshots family for years and have lived in many cities and states helping grow this brand, but the opportunity to open Mugshots in Ridgeland is like coming home."
Founder Chris McDonald stated, "Over the last ten years it's been an honor to develop restaurants in over 18 communities, but there is something special about Ridgeland. Mayor McGee, the chamber of commerce, and city officials have gone out of their way to welcome us to the community. The support for Megan Mascagni during our 'Eat Good, Give Back' and the attendance at our grand opening was overwhelming. We are truly thankful."
About Mugshots Grill & Bar
Mugshots Grill & Bar is one of the South's favorite restaurant concepts serving up great food in a fun, casual, and family-friendly atmosphere. We are dedicated to giving back to the communities in which we operate with our nonprofit organization "Making Life Grand." We pride ourself on our "Havin' A Good Time" culture and now have 15 locations in Louisiana, Mississippi, and Alabama.