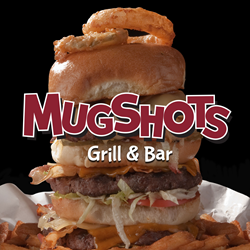 We are deeply tied to the state of Alabama and are dedicated to serving the residents and visitors of Hoover
Hoover, AL (PRWEB) February 17, 2016
Ain't Life Grand Investments, parent company of Mugshots Grill and Bar, Glory Bound Gyro Co., and Topher's Rock 'N Roll Grill, announces the newest Mugshots Grill & Bar location opening March 1st in Hoover, AL. This opening will mark Mugshots' fifteenth location. The weekend of February 26-28, Mugshots will host their three day "Eat Good, Give Back" fund-raising event to benefit Hope for Autumn Foundation. The check presentation will take place Tuesday morning before the company opens its doors to the public at 11:00am. Invitations for this event will be distributed throughout the community as well as posted on all of Mugshots' social media outlets. All media and public are invited to the check presentation Tuesday, March 1st, at 10:30am.
"We have been honored to support the Hope for Autumn Foundation in the past and we are excited to dedicate our newest location's "Eat Good, Give Back" soft opening to them. They are a great foundation helping raise funds to benefit the Alabama Center for Childhood Cancer and Blood Disorder's Developmental Therapeutics Program, and have helped families with children fighting cancer in need of financial aid." said Chris McDonald, Founder of Ain't Life Grand Investments and Mugshots Grill & Bar. "Childhood cancer touched us all last year as we supported Taylor Rayburn, 6 year old cancer survivor and daughter of our Tuscaloosa franchisee. We created Project Team Taylor to raise funds and awareness for Childrens of Birmingham. It was one of the most rewarding events we have done and really helped drive home our company purpose to all of our family members." McDonald also stated.
"The city of Hoover not only offers great location, events, and infrastructure; it has loyal people. All of these factors are very attractive for business owners" said Bobby Garner, President of Mugshots Grill & Bar. "We are deeply tied to the state of Alabama and are dedicated to serving the residents and visitors of Hoover. We look forward to calling Inverness Corners home." Garner said in closing.
About Mugshots Grill & Bar:
Mugshots Grill & Bar is one of the South's favorite restaurant concepts serving up great food in a fun, casual, and family-friendly atmosphere. We are dedicated to giving back to the communities in which we operate with our nonprofit organization Making Life Grand." We pride ourself on our "Havin' A Good Time" culture and now have 15 locations in Louisiana, Mississippi, and Alabama.