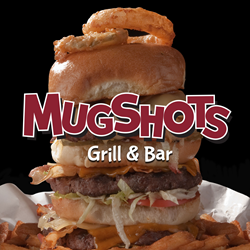 The Baldwin County community has been extremely welcoming to us
Malbis, AL (PRWEB) July 04, 2016
Ain't Life Grand Investments, parent company of Mugshots Grill and Bar, Glory Bound Gyro Co., and Topher's Rock 'N Roll Grill, announces the newest Mugshots Grill & Bar location opening Tuesday, July 12th in Malbis, AL. This opening will mark Mugshots' sixteenth location. The weekend of July 8-10, Mugshots will host their three day "Eat Good, Give Back" fund-raising event to benefit the Child Advocacy Center of Mobile and the Baldwin County Child Advocacy Center. The check presentation will take place Tuesday morning before the company opens its doors to the public at 11:00am. Invitations for this event will be distributed throughout the community as well as posted on all of Mugshots' social media outlets. All media and public are invited to the check presentation Tuesday, July 12th, at 9:00am.
"Our Mobile store has been able to raise over $12,000 for local charities. The goal for our Malbis location is to double that amount." said George Herring, Owner and Franchisee of Mugshots Mobile and Mugshots Malbis. "Myself, my management team, and my staff are thrilled to partner with and contribute to such a worthy cause. The Baldwin County community has been extremely welcoming to us during this construction phase and we cannot wait to be able to serve the good people here." Herring also stated.
"We are excited to be a part of the Eastern Shore community, and look to a long-standing partnership with the city of Daphne." said Bobby Garner, President of Mugshots Grill & Bar. "We hope to be a strong contributor to an already strong community of residents and businesses. With our presence in Alabama already, Baldwin County has been on our radar for quite sometime. We are proud to finally be able to become a part of the community. Garner said in closing.
About Mugshots Grill & Bar:
Mugshots Grill & Bar is one of the South's favorite restaurant concepts serving up great food in a fun, casual, and family-friendly atmosphere. We are dedicated to giving back to the communities in which we operate with our nonprofit organization Making Life Grand." We pride ourself on our "Havin' A Good Time" culture and now have 16 locations in Louisiana, Mississippi, and Alabama.