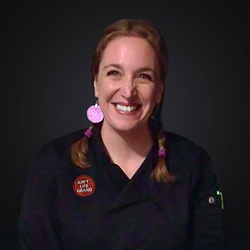 I'm looking forward to this next chapter in my culinary journey
Covington, LA (PRWEB) October 02, 2015
Ain't Life Grand Investments LLC, (ALG) the parent company of a growing list of the south's favorite restaurant concepts including Mugshots Grill & Bar, Glory Bound Gyro Co., and Topher's Rock N' Roll Grill, is pleased to announce the addition of Eileen Bennett to the ALG Family. 
Bennett, a sixth-generation New Orleanian and mother of 3 boys, will be stepping into the role of Corporate/Test Kitchen Chef for Ain't Life Grand Investments. She brings over 25 years of culinary experience and has excelled in such positions as culinary instructor, chef de cuisine, sous-chef, and pastry chef. From the age of 12 Eileen has been in either a hotel or restaurant kitchen. From bar-back and short order cook to catering, Eileen understands personalized customer service, the restaurant industry, and knows how to stay creative. Her culinary creations and inspirations embody the spirit and flavor that is New Orleans and Southern Cuisine.
"We couldn't be more excited to bring Chef Eileen on board," said Chris McDonald, founder of Ain't Life Grand Investments. "She has an incredible mixture of experience and creativity that has already inspired our corporate headquarters as she has made our new test kitchen her home. Our customers and restaurant family are going to love her and what she creates for our current and future restaurants and menus."
Over the last 25 years she has worked with renowned New Orleans chefs such as Alison Vega, Susan Spicer of Bayona, and most recently Tony Bosco of Bosco's Italian Cafe. In 2014, Bosco's and Chef Bennett received national rave reviews for her "Louisiana Crawfish King Cake." This savory puff pastry, filled with crawfish tails, pepper jack cheese, bell pepper and spices, is dusted with colored Parmesan and drizzled with her special blend of herbed cream "icing." This unusually unique pastry was created by Bennett and traditionally served at her mother's renowned Mardi Gras parties in the French Quarter for over 18 years.
In addition to her education, experience, and creativity, Chef Eileen gives back to the community with her time and talents. She has been a Pro-Start Team Mentor at Fontainebleau High School, appeared in the Culinary Arts Series at Hammond Regional Arts Center, and is an instructor at Culinary Kids, where she leads their Advanced Cooking Classes for kids, All-Abilities Classes for young adults, and a Global Food Series for their Adult Corks and Cooking Classes.  Last spring she represented Culinary Kids in the Girl Scouts of America Cookies and Cocktails Party at Harrah's Casino in New Orleans.
"I'm looking forward to this next chapter in my culinary journey," stated Chef Eileen. "I'm excited about the opportunity to help develop three different restaurant brands and menus, but even more excited about how our nonprofit group, Making Life Grand, will allow me to use my talents to change people's lives."