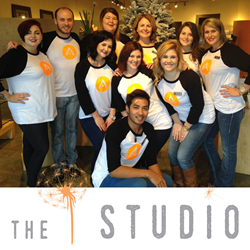 The average Cambodian makes $150 a month
Hattiesburg, MS (PRWEB) April 26, 2016
On Wednesday May 25th, The Studio will donate 100 percent of profits from hair services and 10 percent of profits from sold retail products to efforts to help victims of human trafficking in Cambodia. The Studio is teaming up with Topher's Rock 'N Roll Grill to build a Topher's restaurant in Cambodia. The business plans to help provide sustainable wages for these victims to give them a way out of sex slavery.
In November 2015, The Studio and Ain't Life Grand Investments, parent company of Topher's Rock 'N Roll Grill, Mugshots Grill & Bar, and Glory Bound Gyro Co., sponsored three young men from Cambodia. Son Ton (Den), Sotheara Theoung (Sothea), and Rotha Kao (Rotha) were immersed in American business culture and were taught invaluable leadership skills and servanthood. These young men will now take what they have learned and return to Cambodia to support an ongoing ministry to provide more opportunities to rescue people out of human trafficking. One of the three business students, Den, trained with The Studio during his time here and plans to enroll in cosmetology school in July. Upon completion of his schooling, Topher's Rock 'N Roll Grill plans to help The Studio open a salon for David in Cambodia to further support their ministry.
"The partnership has been beautiful since the beginning." said Lisa Cochran, Owner of The Studio "The average Cambodian makes $150 a month, and it is so easy for them to return to a life of prostitution when their skill set is low. If you have a heart for human trafficking, here is a very practical way to see real change. Education, training, and opportunity will be created for Cambodians through this partnership." Cochran said in closing.
The Studio's goal is to raise $5,000 on its May 25th event titled "Look Good Do Good," and the salon is challenging other businesses and individuals to match what they raise. A representative of Topher's will be available at the event throughout the day. If you would like to make an online donation visit our Go Fund Me donation page.