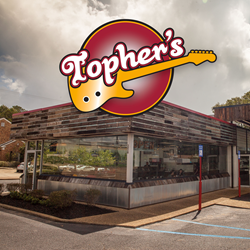 We are so grateful for community partners like Topher's and the Making Life Grand crew
Hattiesburg, MS (PRWEB) October 04, 2016
On Tuesday, October 11th, Topher's Rock 'N Roll Grill will hold a grand opening ceremony, ribbon cutting, and check presentation at its newest location on Hardy Street in Hattiesburg's Midtown. This grand opening ceremony will mark the 4th Topher's location in Mississippi. Monday, September 26 through Sunday, October 9, Topher's will host their soft opening "Eat Good, Give Back" fund-raising event. Proceeds from this 14 day event will be donated to the The Children's Center in a check presentation Tuesday afternoon before the grand opening ceremony. All media and public are invited to the check presentation Tuesday, October 11th, at 4:30pm.
"We are so grateful for community partners like Topher's and the Making Life Grand crew," said Sarah Case-Price, Center director. "Their contribution and care for what we do allows us to continue providing exemplary therapy programming to each child we serve."
"We are very excited to be open and couldn't be more excited about our location." said John McCarter, Brand President of Topher's. "We are located on Hardy Street across from the University, so partnering with The Children's Center was a perfect fit. I encourage everyone to come out for our "Eat Good Give Back," have some great food, and check out our new building design. We worked with Greenleaf Architects for design and collaborated on a rustic industrial design while using the existing large pains of glass which creates a very open feel. We have seating for over 50 people inside, an open air covered patio that seats up to 24 people, and a drive-thru. With the help of our community and fans we'll be able to have a great donation next week for The Children's Center," said McCarter in closing.
About Topher's Rock 'N Roll Grill:
Topher's Rock 'N Roll Grill is one of the South's favorite restaurant concepts serving up great food in a fun, casual, and family-friendly atmosphere. We are dedicated to giving back to the communities in which we operate with our nonprofit organization "Making Life Grand." We pride ourself on our delicious menu and company culture and now have 4 locations in Mississippi.