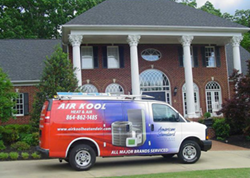 (PRWEB) April 20, 2014
In the spring and summer months, many people in Greenville SC take for granted the air conditioning system that keeps them cool at night. Also, most people do not realize that allergies can be relieved by installing a simple system into their home.
Residents in South Carolina suffering from allergies can take small steps to help relieve their allergies. The root of these problems many times is a good quality air filter. According to NBC's Dr. Nancy Snyderman, it's a good idea to shower before going to sleep, keep all windows shut, including your car windows, clean your eyeglasses if you wear them and clean your pets regularly. However, Air Kool has found that allergens stemming from heating and air conditioning systems are a major contributor to allergies.
"One of the easiest methods of fighting allergies while still keeping cool with your air conditioning system in Simpsonville, SC is to change your heat pump air filters regularly", says Ken Alverson of Air Kool in Simpsonville, SC. "If you suffer from allergies in the spring and summer months a good quality air, dust, and pollutant filtration system, such as the Air Knight, can help with this while still allowing you to stay cool inside." The majority of the filters that most residents in the Upstate of South Carolina have been known to install only remove about 16% of allergy causing dust and dander particles from the air inside the home. In some instances, the air inside the home is even more polluted, even up to 4 times more polluted in the home due to pets, mold, mildew and dust.
Unfortunately, there are no clear indicators that can alert Upstate residents about this part of their HVAC system because it is usually hidden. After installing an Air Knight system, the filter works with the air conditioning by removing unwanted and dangerous particles from the air by bringing the feeling of the fresh, outdoor air inside. The Air Knight purifies every inch of air in a given space by destroying the pollutants in the air inside the home.
Summary:
Air Kool Heat and Air has been in business for more than twenty years. Air Kool is an authorized Trane dealer and an authorized Carrier dealer. Air Kool is also NATE certified. Air Kool's goal is to provide the best possible service to residents in Greenville, Simpsonville and the surrounding areas of the Upstate of SC while delivering the best possible value for their money. Ken Alverson, founder of Air Kool, has been a leader in the HVAC industry for more than two decades. Through hard work, continuous education, and with the help of dedicated staff, Ken has become one of the top dealers in the Upstate area.