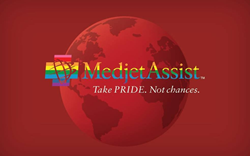 Birmingham, AL (PRWEB) June 25, 2015
MedjetAssist, the premier air medical transport program for savvy travelers, is offering significant membership discounts to promote equality and safer travel during the entire month of June in recognition of LGBT Pride Month.
Through July 31st, families of all types can enjoy up to $85 in savings on new one- to five-year LGBT family and individual memberships. Ever since its formation in 1998, the MedjetAssist family membership has been designed to meet the needs of a wide range of family structures. Medjet family memberships always include a primary member, a domestic partner or spouse, and up to five dependent children through ages 19 (or up to age 23 for full-time students).
It is estimated that as many as three-million LGBT Americans have had a child, and up to six-million Americans have an LGBT parent. Meanwhile, more than 25% of same-sex couples who are rearing children describe their dependents as grandchildren, siblings or other children who may or may not be related to one or both partners, according to The Williams Institute report on LGBT Parenting in the United States.
This summer, families of all kinds will travel the country and abroad. Whether relaxing on a beach getaway, driving the kids to summer camp or taking a cross-country road trip, it's important to put health and well-being first for every family member. A Medjet membership gives families on the go a greater sense of peace of mind. In the event of a medical emergency, our members are not alone.
When travel is interrupted by an accident, illness or injury, the cost of medical transfer home can range from $30,000 to $100,000, depending on the destination and the situation. Most people are not prepared to suddenly face that kind of expense. However, if a Medjet member is hospitalized more than 150 miles from home virtually anywhere in the world and he or she meets transport criteria, Medjet will arrange air medical transfer to the hospital of the member's choice in their home country, for free. All our members ever pay is their annual membership fee. There are no cost limitations for medical transport, no co-pays and no health restrictions.
In addition to air medical transport to the hospital of a member's choice from virtually anywhere in the world, Medjet membership also offers numerous other benefits for savvy travelers. In fact, joining Medjet is like having a personal travel concierge at your fingertips.
Our members enjoy free legal and medical referrals, telephone interpretations for patients in foreign facilities, emergency message relay to family and friends, and up-to-date information on visa, passport and immunization requirements prior to traveling abroad.
Through July 31, 2015, new annual LGBT rates are only $375 (regularly $395) for family memberships and $250 (regularly $270) for individual memberships. To take advantage of our special LGBT pricing, enroll online at medjetassist.com/lgbt or call 800-527-7478 and ask about our limited-time LGBT membership promotion. Discounted rates are non-commissionable and cannot be combined with another offer.
About MedjetAssist
MedjetAssist is the premier global air medical transport membership program for travelers. If a member is hospitalized more than 150 miles from home—virtually anywhere in the world—MedjetAssist reviews his or her condition with the attending medical staff and arranges medical transportation to the hospital of their choice in their home country. MedjetAssist has its corporate headquarters in Birmingham, Alabama, and is the exclusive provider of worldwide air ambulance and medical transfer services for AARP. For more information visit: http://medjetassist.com/.
###