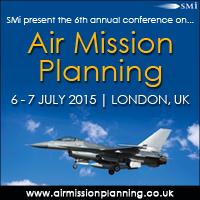 London, UK (PRWEB UK) 18 May 2015
SMi are delighted to announce Vitalii Vorobei, Chief Navigator of Air Transportation Brigade, Air Transportation Brigade of the Ukrainian Air Force and Major General (Ret'd) George Harrison, Principal Research Engineer of Georgia Tech Research Institute have both confirmed to speak at the 6th annual Air Mission Planning conference, taking place on the 6th - 7th July 2015 in London, UK
Vitalii Vorobei joins the speaker line-up on day one of the event and his presentation entitled 'Air Mission Planning at carrying out Anti-Terrorist Operations' will focus on Status of force at the beginning of Anti-Terrorist Operation. The presentation will cover Aircraft Recovery, Flying Staff training and Tactics.
Major General (Ret'd) George Harrison joins the speaker line-up on day two of the event and his presentation entitled 'Falcon View – An Overview' will focus on Advantages of common MAP reference, Extended database, Automated data feeds and User interface.
Vitalii Vorobei and Major General (Ret'd) George Harrison will join a line-up of senior military, government and industry speakers including:

Air Commodore Paddy Teakle, GBR AF, Deputy Force Commander (FCD)/Chief of Staff (COS), HQ NAEW&C Force Command, NATO
Brigadier General Holt, Deputy United States Military Representative, North Atlantic Treaty Organization (NATO)
Lieutenant Colonel Cory "Fargo" Jeffers, Commander, 13th ASOS, Fort Carson, CO (USA)
Lieutenant Colonel Rafael Fernandez-Shaw Dominguez, Operations Division, Spanish Air Force
Lieutenant Colonel Jaroslav Mika, Commander, 211 Squadron, Czech Air Force
Colonel Giorgio Seravalle, ITAF Air Mobility and Special Forces Command, Chief Operations and Exercises, Italian Air Force (ITAF)
To see the full list of speakers and presentations visit http://www.airmissionplanning.co.uk
SMi have released a snapshot of the confirmed organisations attending this year's Military Flight Training conference. Companies confirmed to attend include:
Airbus, Alenia Aermacchi, Czech Air Force, Georgia Tech Research Institute, Hewlett-Packard, Inzpire, Italian Air Force Staff, Movement Coordination Centre Europe, NATO, NATO C3 AGENCY, NATO Support Agency (NSPA), Ocean Software Pty, Royal Air Force, Royal Australian Air Force, SAAB, Spanish Air Force, Ukrainian Air Force, United States Air Force's 13th Air Support Operations Squadron (13 ASOS), United States European Command (US EUCOM), VANGOVION plus many more
There are limited places available so those interested in attending are advised to book their seat early.
For more information visit the event website or contact Frederick Agboletey on: +44 (0) 20 7827 6070 / fagboletey(at)smi-online(dot)co(dot)uk
Military Flight Training is sponsored by: Hewlett-Packard
Air Mission Planning
6th – 7th July 2015
Holiday Inn Regents Park, London, UK
http://www.airmissionplanning.co.uk
------------------------- END --------------------------
About SMi Group:
Established since 1993, the SMi Group is a global event-production company that specializes in Business-to-Business Conferences, Workshops, Masterclasses and online Communities. We create and deliver events in the Defence, Security, Energy, Utilities, Finance and Pharmaceutical industries. We pride ourselves on having access to the worlds most forward thinking opinion leaders and visionaries, allowing us to bring our communities together to Learn, Engage, Share and Network. More information can be found at http://www.smi-online.co.uk