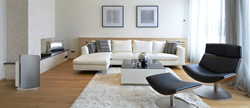 Now with the designer panels, the BreatheSmart not only fits your air quality needs, but it can fit your style as well.
Austin, TX (PRWEB) March 25, 2014
Long gone are the days of home appliances, like refrigerators and ovens, sticking out as eye sores. Many are looking to blend appliances with their personal style, making designer air purifiers a natural next step for Alen, an Austin, TX-based Air Purification company. Recently, the company introduced the industry's first designer panels for the BreatheSmart Air Purifier. With this, Alen is moving to provide more personalization of their products beyond a customer's air quality needs. As of this week, the BreatheSmart can be ordered with the front panel covered by a designer pattern of their choice. Now, the air purifier will not only solve your air quality needs, but it will fit your personal style as well.
The BreatheSmart is specifically designed to work with multiple filter types to address a variety of the most harmful indoor air quality issues, such as: allergens and dust, smoke, pet and cooking odors, chemicals and bacteria. Additionally, the air purifier utilizes SmartSensor Technology, which turns air purifying levels up or down to respond to pollutants and allergens detected, and unique WhisperMax Technology, which provides a peaceful environment with its quiet operation. With the introduction of designer panels, Alen continues their customer-centric approach by designing products which are personalized to the individual's environment.
"Air purifiers as we know them today have always been about getting the job done and aesthetics have rarely been a concern. That's why we've added even more personalization to the BreatheSmart. Now with the designer panels it not only fits your air quality needs, but it can fit your style as well," says Consumer Air Quality Advocate Mark Vander Berg. "Some of the air purifiers out there look industrial, or really, like they came out of the 1970s. With the BreatheSmart, our goal is to make managing your indoor air quality simple, effective and specific to your environment."
Just as water filtration has become a standard for many homes, air purifiers are steadily becoming a staple appliance for allergy sufferers or those concerned about indoor air quality. Alen understands this, says Vander Berg. "We went into the homes of our BreatheSmart owners and heard how much they loved its smart features and quiet operation. However, we found customers wanted more color options for the white panel on the front. That's why we created the designer panel options. These allow the BreatheSmart to coordinate, stand out or simply fade into the background of a home." Vander Berg also says this is just the first step in creating fully personalized air purifiers, "I'm excited to share this with our customers and I can't wait to bring more options to solve their air quality needs."
A limited selection of designer panels, including our Dark Espresso Wood Grain, Graphite Carbon Fiber and Oak are available in now with more colors available in the coming months.
###
Alen Corporation
Located in Austin, TX, Alen designs high quality HEPA air purifiers and filters that improve indoor air quality and relieve symptoms associated with respiratory conditions. Alen cares deeply about helping people breathe and live better by offering products which provide pure air for a lifetime.