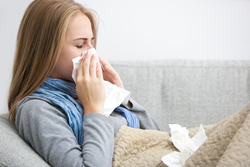 The air in my home is cleaner, with less allergens and germs in the air and surfaces to exacerbate my allergies.
New York, NY (PRWEB) May 09, 2014
Air Scrubber Plus® recently announced a way to improve indoor air quality for those who suffer from asthma and allergies during Asthma and Allergy Awareness Month. Air Scrubber Plus®, with ActivePure technology, offers the only environmental technology that is proven to actually reduce contaminants in the air and surfaces of the home.
"Within about a few weeks of installing the Air Scrubber Plus, I noticed my wife Julie's asthma was noticeably improving and she was using her spray inhaler significantly less," said Bob Curran, of Van Nuys, California. "Julie says this is the best thing we have done for our house and our health for a very long time, and we never want to live without the Air Scrubber Plus."
Asthma is a chronic inflammatory lung disease that occurs when the airways react to a variety of stimuli, and it can be life-threatening when not properly managed. Approximately 18 million adults and 7 million children live with asthma. Annually, approximately 3,000 people die from asthma-related issues. Asthma triggers include: respiratory infections and colds; cigarette smoke; allergic reactions to pollen, mold, animal dander, feathers, dust, food and cockroaches; indoor and outdoor air pollutants; exercise; excitement and stress.
"As an allergy sufferer, I can attest to the great improvement that Air Scrubber Plus contributed to my quality of life," said Tom Lozano, executive director of Air Scrubber Plus. "The air in my home is cleaner, with less allergens and germs in the air and surfaces to exacerbate my allergies."
According to the American Academy of Allergy Asthma & Immunology, approximately 7.8% of American adults and 10% of children have hay fever, otherwise known as allergic rhinitis. Hay fever causes cold-like symptoms, such as runny nose, itchy eyes, congestion, sneezing and sinus pressure. It is caused by an allergic response to pollen, dust mites or pet dander.
Scientific, peer-reviewed studies of ActivePure technology show a reduction of up to 99% of harmful indoor pollutants, including contaminants on surfaces, like kitchen sinks, keyboards and doorknobs. Dust, allergens, mildew and odor-causing bacteria are proven to be significantly reduced from the indoor environment with Air Scrubber Plus, which is available through a nationwide network of general contractors and HVAC specialists.
About Air Scrubber Plus
Air Scrubber Plus®, with ActivePure™ technology, cleans, freshens and purifies the air using a proprietary light technology that creates enviroscrubbing molecules of oxygen and hydrogen. Air Scrubber Plus® with ActivePure™ technology is based on a variation of technology originally developed in cooperation with NASA for use in the International Space Station and is recognized as the exclusive Certified Space Technology by the Space Foundation in its category. To learn more about the scientific validation for this new technology, visit http://www.airscrubberplus.com.