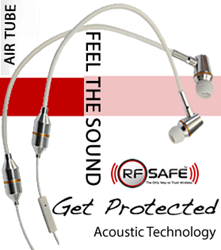 even using the lowest SAR cell phone is still powerful enough to heat body issue the same way a microwave oven cooks food
Palo Alto, California (PRWEB) March 17, 2014
According to RF Safe, many consumers are just now learning the seriousness of being exposed to excessive cell phone radiation because of a recent Senate Bill in Hawaii and last week, 3/11/2014 a House Bill in Maine which have both passed to alert cell phone users with warning labels.
Consumers are finding out that they haven't been using these wireless devices safely as directed in the users manual. What is disturbing parents even more, its clear children are not adhering to the safety guidelines and this puts children in a very high risk group because of thinner skulls and smaller heads that absorb more radiation.
Lawmakers and politicians are taking notice that radio frequency radiation warnings go unread.
In the fine print of a cell phone user's manual, under RF Safety, many cell phones are required to remain almost an inch away from the body at all times during use to remain within the FCC's accepted safe levels of radiation exposure.
RF Safe recommends starting with the lowest radiation cell phones. Samsung sells twelve of the twenty lowest SAR phones available in the U.S. None of the lowest SAR phones are made by the leading U.S. companies, Apple, Motorola, or RIM Blackberry.
Cell phone radiation is non-ionizing radiation, and even using the lowest SAR cell phone is still powerful enough to heat body issue the same way a microwave oven cooks food - "with microwaves". The same frequencies used to cook with at one power-level, are also the same frequencies used to communicate wireless at a different power-level.
SAR stands for Specific Absorption Rate which is a test that incidences only thermal increases in temperature, what is important to understand is that profound changes to biological processes happen at below thermal levels of exposure.
Dr. Henry Lai has reported DNA single and double strand breaks at levels below the current FCC exposure standard. Genetic Effects of Non-Ionizing Electromagnetic Fields Oct 2012 http://www.bioinitiative.org/report/wp-content/uploads/pdfs/sec06_2012_genetic_effects_non-ionizing.pdf
Its for this reason RF Safe offers cell phone radiation protection that addresses non thermal radiation exposure.
While a wired headset will reduce heating of the brain from radiation exposure - wired headsets still allow the brain to be exposed to non thermal levels of microwave radiation higher than ambient levels.
RF Safe highly recommends all call phone users switch to an airtube headset for the highest amount of protection for the brain.
John Coates, a true specialist in cell phone radiation safety with over 15 yrs experience reducing cell phone radiation exposure and founder of RFSAFE.COM, says the risk of mobile phone EMR must not ever be dismissed. "Mobile phones cannot be completely avoided, and the risk of use has to be balanced with a practical application of phone radiation safety accessories," he says. "I would advise against ... any prolonged use of mobile phones without proper RF safe protection."
Coates says, "Parents should be teaching their children the basics of cell phone radiation safety before they start using a cell phone and equip their children with safety accessories proven to reduce cell phone radiation exposure. No different than a safety helmet for contact sports, protecting their child's developing brain should be a concern for every parent."
The latest innovations in radiation-free RF Safe acoustic technology are now available for the newest Apple iPhones and Samsung Galaxy smartphones on the market. Smartphone users are accustom to the latest technical advancements, and now with an air tube headset they can experience live acoustic sound without any electrical components in their ears.
RF Safe Air-tube Headset For All Apple iPhone Models
iPhone (1st generation), iPhone 3G, iPhone 3GS, iPhone 4, iPhone 4S, iPhone 5, iPhone 5C, Phone 5S
RF Safe Air-Tube Headset Samsung Galaxy Smartphone Models
Samsung Galaxy S II, Samsung Galaxy S III, Samsung Galaxy S4, Samsung Galaxy S5, Samsung Galaxy F
No matter what model cell phone you have, RF Safe has an Air-tube Headset that is built to last. RF Safe Air-tube Headsets come in Mono (single bud) Stereo (Dual Bud) with a selection of colors for any style. To review air tube headset options click here.
Stay up-to-date on the hazards of cell phone radiation visit http://www.rfsafe.com.